"The UNSC meeting is scheduled for 3 p.m. [20:00GMT] on Friday and will be held in an open format," the source said.
The Council's daily program for Friday, published on its website, shows the 15-nation body would meet in the afternoon to discuss the "situation in the Middle East."
US Ambassador to the UN Nikki Haley told reporters Tuesday she would seek an emergency UN meeting in New York City and at the UN human rights agency in Geneva.
Nikki Haley has said that Friday's emergency meeting on Iran protests would try to prevent Syria atrocities from repeating in Iran, in a statement by the US mission.
"Tomorrow the UN Security Council will discuss the troubling and dangerous situation in Iran. The world has witnessed the horrors that have taken place in Syria… We must not let that happen in Iran," Haley said.
Haley argued in the statement that what Washington sees as a crackdown on protesters was a matter of "international peace and security." She said it would be telling if any country were to oppose the UN having this discussion.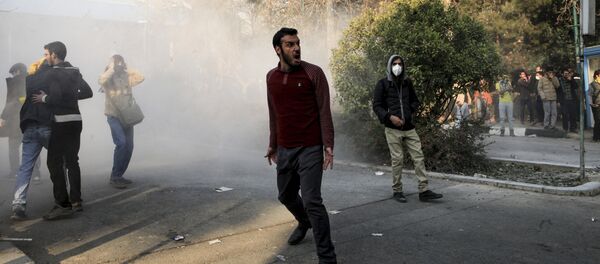 2 January 2018, 22:31 GMT
US State Department spokeswoman Heather Nauert warned earlier on Thursday that Washington had ample means to hold those responsible for the violent crackdown on
protesters
in Iran accountable.
Russia's Deputy Foreign Minister Sergey Ryabkov told Sputnik the US call for an urgent UN meeting on Iran's domestic affairs was "harmful and destructive." He argued that it was not UN's role as a watchdog of international peace to discuss Iran's domestic issues.
In the past week, the Islamic Republic has seen the largest popular unrest in nearly a decade. Protests began over price hikes and unemployment but then turned to broader issues like the clerical rule. At least 20 people have reportedly been killed and 450 have been detained.