"If they come to the conclusion that it is rightful to remove elements of the Soviet era, then it is necessary to think it over. The memorial should not pose a threat, and if necessary, something must be concreted or demolished," Reinsalu told the Vikerraadio broadcaster.
The minister noted that, as far as he knew, the memorial and the available art objects were not listed in the register of monuments.
"For me, they are not sacred," Reinsalu stressed.
According to the study commissioned by the Justice Ministry, the authorities will spend almost one million euros ($1.2 million) to make the Maarjamae Memorial, which consists of several monuments, safe.
In late April 2007, the Estonian authorities dismantled and transferred the Bronze Soldier ("Alyosha") monument together with the remains of the buried Soviet soldiers from the center of Tallinn to the city's Defense Forces Cemetery. This led to massive unrest and protests in Tallinn and other cities of the country. The Russian-speaking community opposed this action.
READ MORE: Latvian Parliament Equates Status of WWII Soviet, Nazi Participants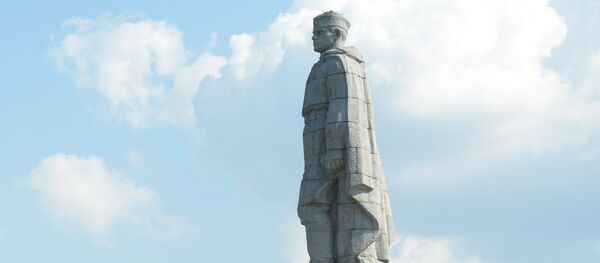 11 November 2017, 16:26 GMT
During the rallies, about 1,200 people were detained and about 50 others were injured, and one of the protesters, 20-year-old Russian citizen Dmitriy Ganin, who was born in the Estonian town of Mustvee, was fatally stabbed. The murder case was closed on June 7, 2017, because the statute of limitation has expired. The Russian Foreign Ministry and the Russian Embassy in Estonia have repeatedly expressed serious concern with the inaction of Estonian law enforcement agencies in the investigation into Ganin's death.