Thousands of Kurds took part in a protest rally in Paris as French President Emmanuel Macron held talks with his Turkish counterpart Recep Tayyip Erdogan.
The protesters chanted "Erdogan, assassin," demanding justice for the deaths of three female Kurdish rebels who were allegedly killed by Turkish agents in the French capital nearly five years ago.
"Five years of silence, five years of denial of justice, five years of impunity," one of the banners held by the assembled activists read.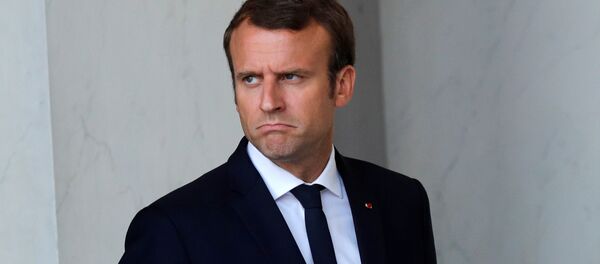 4 January 2018, 14:33 GMT
In January 2013, the bodies of three female Kurdish activists — Sakine Cansiz, 54, Fidan Dogan, 28, and Leyla Soylemez, 24 – were found in central Paris with gunshot wounds. Cansiz was one of the co-founders of the Kurdistan Workers' Party (PKK), which is branded as a terrorist organization in Turkey.
French investigators apparently concluded that Turkish spies were "implicated" in the killing, though Turkey's National Intelligence Organization (MIT) denied involvement.
"I watched on television the press conference between Erdogan and Mr. Macron yesterday. It's sad that the president did not mention the murder of my sister… it seems that we are hiding things and France doesn't want to divulge information to preserve its interests," Ali Dogan, Fidan's brother, said.
Members of the 'sextremist' group Femen also staged a protest against alleged human rights violations in Turkey. Four topless protesters dressed as waitresses were carrying a menu labeled 'Erdogan's Cannibal Lunch' which featured options like 'Sliced Kurds', 'Gay Pudding' and 'Stewed Journalists', according to RT.
However, the Femen activists were swiftly identified and apprehended by police officers who ushered the scantily clad women away before the arrival of the Turkish leader.