MOSCOW (Sputnik) — Lars Klingbeil, the secretary general of the Social Democratic Party (SPD), described on Sunday the coalition talks with German Chancellor Angela Merkel's CDU/CSU alliance as "serious and open."
Earlier in the day, the exploratory talks on a coalition government kicked off in Germany following the country's parliamentary elections in September, 2017. The discussions will last for five days and are expected to result in a final decision on the parties' readiness to form the new government.
"We all realize the responsibility for the future of Germany and Europe. We find ourselves in the new time. And this new time demands new politics," Klingbeil said, as quoted by the Welt newspaper, adding that the talks were "serious, constructive and open."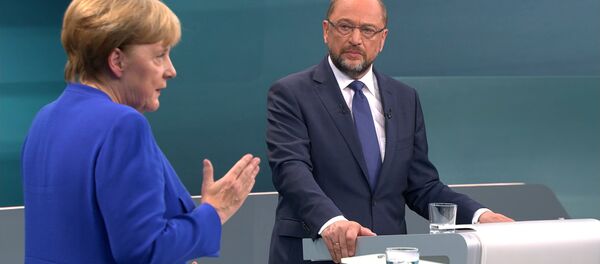 28 December 2017, 17:09 GMT
Germany held parliamentary elections on September 24. 2017. The
CDU/CSU bloc
won the election with 33 percent of the vote, or 246 seats in the parliament, however, failed to secure an absolute majority. The SPD came second with 20.5 percent of the vote and 153 seats. The Free Democratic Party (FDP) received 10.7 percent of the vote and 80 seats.
The FDP withdrew from the Jamaica coalition talks with the CDU/CSU alliance and the Greens, with the remaining parties only capable of forming a minority government. The SPD, on the other hand, initially refused to form the so-called Grand Coalition with the conservative bloc.