The Russian military has taken control of six drones that were sent by militants, another seven were shot down by the Pantsir-S1 anti-aircraft missile and gun system, the Russian Defense Ministry reported.
The security system of Hmeimim and Tartus base thwarted a terrorist attack the massive use of drones on January 5-6
A technical analysis of the captured drones revealed that the terrorists are able to carry out attacks from a range of about 100 kilometers, the statement added. The Defense Ministry pointed out that the attempted attack marks the first time the terrorists have used modern guidance technologies on satellite GPS.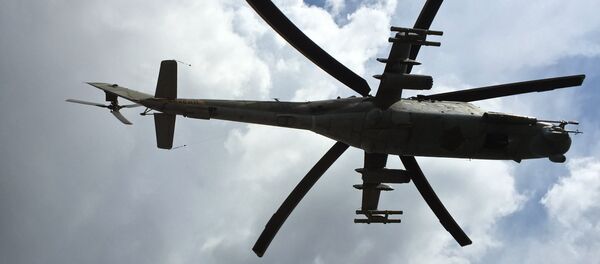 3 January 2018, 09:38 GMT
The Russian security services are carrying out a probe to find out who supplied the drones to terrorists.
The ministry stressed that the possession of such technology by the terrorists means that they are capable of launching similar attacks in any country in the world.
READ MORE: Syrian Army Liberates Strategic Settlement of Sinjar in Idlib Province — Source
Further tests will help indicate where the drones were launched from, according to the statement. 
The engineers are also inspecting the components of the explosive devices that were mounted on the drones.