MOSCOW (Sputnik) — The Colombian authorities and rebels from the National Liberation Army (ELN) group launched on Tuesday the fifth round of reconciliation talks in the Ecuadorian capital of Quito, Ecuadorian Foreign Minister Maria Fernanda Espinosa said.
"Today we are launching the fifth round of dialogue between the negotiating team of the Colombian government and the ELN. Ecuador is supporting the peace process and the ceasefire," the minister wrote on her Twitter page.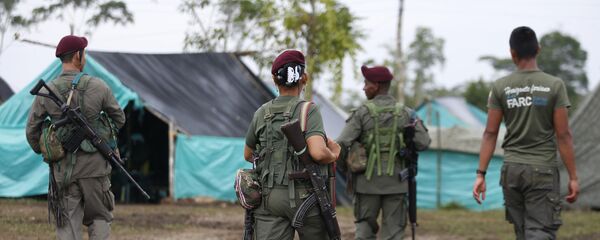 The Colombian government and rebels reaffirmed their commitment to the ceasefire
agreement
launched on October 1, which is due to expire on Tuesday, and expressed hope to negotiate a new truce.
Earlier, Colombian president's office this was the first bilateral ceasefire endorsed by the rebels in its history,
The ELN is the second largest guerrilla movement after the Revolutionary Armed Forces of Colombia (FARC), estimated to have between 1,500 and 3,000 fighters. The United States considers it a terrorist organization.