The first MC-21-300 prototype has already carried out 33 test flights, and will be joined by a second test plane in late February or early march, Russian Deputy Prime Minister Dmitri Rogozin has confirmed.
Rogozin, an official whose portfolio includes aerospace and defense, explained that the assembly of the second MC-21 is being wrapped up at the Irkutsk Aviation Plant. He also confirmed that that the Irkut Corporation is on track to start mass production of the aircraft in 2019.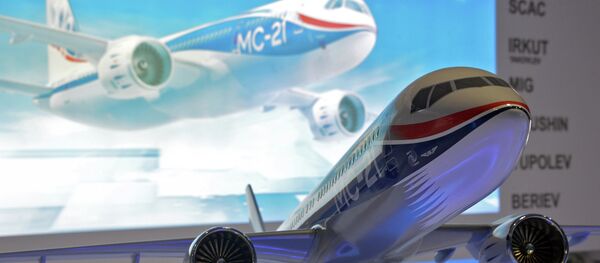 The MC-21, a new short and medium-haul jetliner with a capacity of 130-220 passengers across its MC-21-200, and MC-21-300 variants, has a range of up to 6,000 km. The company is also mulling the creation of a 250 passenger variant, the MC-21-400.
Developers, officials and flight testers have touted the plane's many expected advantages against competitors, including improved fuel consumption figures, lower maintenance requirements, higher cruising speed, more comfortable cabin pressure and climate control, better noise isolation, and a price tag which can run tens of millions of dollars below that of Boeing and Airbus's offerings. These advantages are believed to have been achieved thanks to developer Yakovlev Design Bureau's leading-edge design decisions in airframe, engine, and avionics technologies, including a composite wing-design.
The MC-21 will be powered by two next-gen PD-14 turbofan engines produced by Aviadvigatel Company. The planes can also be fitted with the PW1400G power plant, produced by American engine firm Pratt & Whitney.
© Sputnik / Mikhail Voskresenskiy
 / Go to the mediabank
Visitors at the PD-14 aircraft engine displayed by the United Engine Corporation at the MAKS-2015 air show in Zhukovsky in the Moscow Region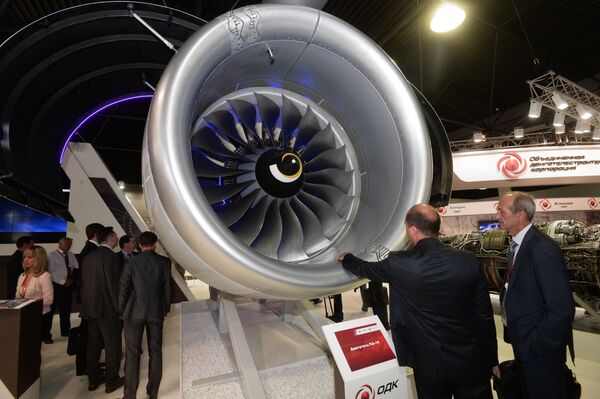 Visitors at the PD-14 aircraft engine displayed by the United Engine Corporation at the MAKS-2015 air show in Zhukovsky in the Moscow Region
© Sputnik / Mikhail Voskresenskiy
/
The first MC-21-300 was rolled out in June 2016, and made its maiden flight in May 2017. Last October, the test plane made its first long-haul flight from Irkutsk, Siberia to Zhukovsky, outside Moscow, flying a distance of over 4,300 km.
Since its unveiling, over 200 MC-21s have been ordered by Russian airlines, including Aeroflot, IrAero and Red Wings. India, Hungary, and Bangladesh have also shown interest in the plane. India is even eying localization of the MC-21's production, in accordance with Prime Minister Narendra Modi's 'Make in India' initiative. In addition to the home market, Irkut has ambitious plans to sell the plane abroad in large quantities, particularly to the BRICS countries. 

After its expected certification by Russian civil aviation authorities in 2019, Irkut is hoping to receive European Aviation Safety Agency certification in 2020.
Yakovlev began development work on the MC-21 in the mid-late 2000s to replace the remaining Soviet-era Tupolev, Yak and Antonov designs operating in Russia's commercial aviation park, and of eventually putting the squeeze on Boeing and Airbus. Work intensified in 2014 after the downturn in relations with Western countries over the crisis in Ukraine. The Russian government has taken a number of steps to allow Russian airlines to win back the commercial and passenger aircraft market at home, and to gradually return the country to the status of a civil aviation superpower. Together with the short-range Sukhoi Superjet 100 and an updated and modernized long-haul Ilyushin Il-96, the MC-21 is expected to become a major step toward achieving that goal.