Commenting on Netanyahu's strong statement, Sputnik's interviewee Christopher Gunness, Director of Advocacy and Strategic Communications at UNRWA, countered that the agency's humanitarian and human development mission enjoys strong UN General Assembly support.
"The General assembly pays tribute regularly to what it calls 'indispensable contribution to peace and security,'" he said.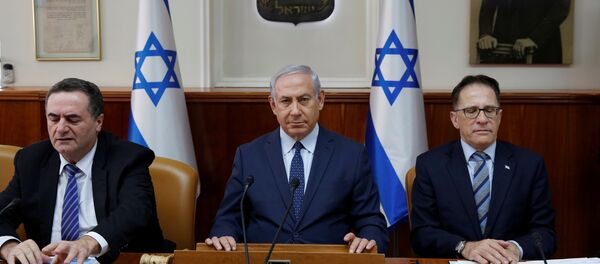 8 January 2018, 07:55 GMT
"It is the failure of the political parties to deal with the refugee issue – that's what perpetuates the problem. The refugee crisis needs to be resolved by the parties to the conflict in the context of peace talks, needs to be based on the UN resolutions and international law. That's what's perpetuating it, not the UN agency which is there to serve the humanitarian or human development needs of the very marginalized population."
Gunness continued by saying that they are a living institution, "not a lightbulb you can turn on and off."
Moving to the question of how crucial it is to preserve the UNRWA, Gunness cited the most invaluable results of their staffers' operations on the ground:
"We employ 30,000 people to serve over five million refugees with regard to the West Bank, Syria, Jordan and Lebanon. In Jordan alone, for example, a linchpin for many countries in the Middle East, there are over two million registered refugees. In Gaza, on the doorstep of Israel, we assist about 1.5 million people. But let's see this in a broader regional context: across the Middle East, 22,000 of our teaching staff provide a daily education to 500,000 children. We teach human rights and conflict resolution. Doctors conduct nine million health consultations annually, 1.7 million food insecure refugees receive food or cash from us. We support 40,000 disabled refugees; 200,000 children. Nearly 40,000 microfinance clients get loans from us — I mean our humanitarian footprint is vast: we support vulnerable children, we empower women and we create healthy communities through a network of primary health clinics."
On freezing funds for @UNRWA Ronald Reagan said "a hungry child knows no politics," and he was right. Linking #humanitarian funding to Palestinian civilians to political concessions by Palestinian politicians is an assault on humanitarian principles long endorsed by the US Govt.

— Eric Schwartz (@EricSchwartzRI) 8 января 2018 г.
Addressing  the questions over the future of their UN agency, Gunness said it has a good working relationship with all its donors and is working closely with them to try and "dig ourselves out of what is certainly a severe structural financial crisis."
The UNRWA's take on the current situation in the Middle East is that "we are dealing with consequences of political failure." Gunness cited an ongoing blockade in Gaza, restrictions by both Israel and Egypt, as well as a now 50-year-old occupation in the West Bank including East Jerusalem. It is thus important for political actors to engage actively and to tackle this, he added.
READ MORE: Palestine's Real Allies are 'Mostly in the East not in the West'- Activist
"Although UNRWA is not a political actor, we are a humanitarian actor dealing with the consequence of political failure, and every hour that passes, those consequences become more and more severe."
"The lives of real people – women, children, the most vulnerable, the elderly, the sick, the aged, the dying – this is what is at stake in the current climate in the Middle East."
Gunness called on all members of society "to get in touch with our humanity" and to look at the human consequences of political failures. He expressed hope that this could become a "profoundly motivating factor, if you start looking at the human consequences, at the individual lives of people who are being impacted." This, the humanitarian organization hopes, would give people a "slightly more on-the-ground perspective on all this macro-political activity that's going on."
The views and opinions expressed by Christopher Gunness are those of the speaker and do not necessarily reflect Sputnik's position.