It became clear on January 4 that the US Justice Department had launched a new investigation into former Secretary of State Hillary Clinton's alleged pay-to-play schemes involving the Clinton Foundation; Charles Ortel, a Wall Street analyst and investigative journalist who has been conducting a private inquiry into the charity's supposed fraud for the last few years, explained why the issue has long remained under the rug.
"Some wonder why it has taken so long to gain visibility into the issues (and other related ones) that the FBI is investigating, working with the US Justice Department," Ortel told Sputnik. "I do not fault the Trump administration for making measured progress, especially given the obstacles this group has faced starting November 9, 2016, when it seems the 'Resistance' movement began its continuing protests."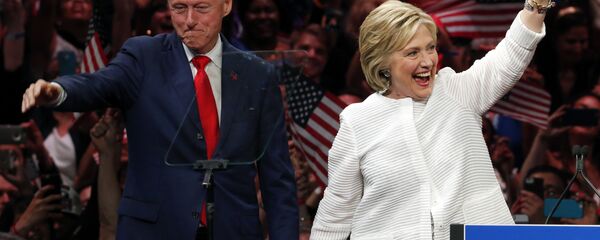 6 January 2018, 17:46 GMT
According to the Wall Street analyst, "Democrats and establishment Republicans have likely been obstructing attempts by President Trump to take full control over the Executive Branch and then implement plans he articulated to Americans during the 2015/6 campaign season."
The crux of the matter is that "there are many inside and around the Federal government who have much to lose as real investigations bore into what actually happened while Hillary Clinton was secretary of state, what happened after she left that position and ultimately lost on November 8, 2016, and even into what happened from 1989 onwards as both major political parties embraced an unregulated, globalist 'New World Order'," the investigative journalist underscored.
READ MORE: How Clinton Charity's Trustees, Donors May Find Themselves in Heap of Trouble
The Clinton Foundation probe is apparently the third ongoing investigation into Hillary Clinton: The Daily Beast reported on January 4 that the DoJ has reopened the Clinton email investigation, while earlier the news emerged that the FBI was ordered to re-examine the so-called Uranium One deal and the Clinton Foundation's possible involvement in it.
Meanwhile, a lot of evidence has been amassed over the years indicating potential fraud and pay-to-play politics on the part of the Clintons.
Why Judicial Watch's 2014 Bombshell Remained Neglected
In 2014, Judicial Watch, an American non-partisan watchdog group, released "over 200 conflict-of-interest rulings that led to $48 million in income for Clinton entities." The documents shed light on Bill Clinton's speaking engagements around the globe during Hillary Clinton's tenure as secretary of state.
"These documents are a bombshell and show how the Clintons turned the State Department into a racket to line their own pockets," Judicial Watch President Tom Fitton said nearly four years ago.
Commenting on why the exposure remained neglected, Ortel suggested that "starting in February 2001 (after the Marc Rich pardon triggered outrage) somehow questionable activities of the Clintons and their allies seem only to have been studied in what some might say have been fake investigations."
"I suspect that many Clinton allies (and perhaps Bush allies) who are stuck into the machinery of government have been able to impede or even stop investigations from running their required course," the analyst believes.
READ MORE: Past Records Cast a Shadow on US Special Counsel's Inquiry Into Trump
In his previous interviews, the Wall Street analyst expressed his bewilderment over the inability of Deputy Attorney General Rod Rosenstein, Special Counsel Robert Mueller and former FBI Director James Comey to uncover obvious violations the Clintons have made over more than a decade.
According to Ortel, it is possible that the Clinton Foundation probe will turn the spotlight to Rosenstein, Mueller and Comey.
"I certainly hope so," Ortel stressed. "The FBI Vault File is a rich source for publicly available and free materials on the 2001-5 Clinton Foundation investigation, on the Clinton email investigation, and on the Weiner/Abedin laptop investigation. These materials, redacted as they are, clearly suggest to me that Mueller, Rosenstein and Comey each have lots to explain about why they missed the obvious escalating frauds."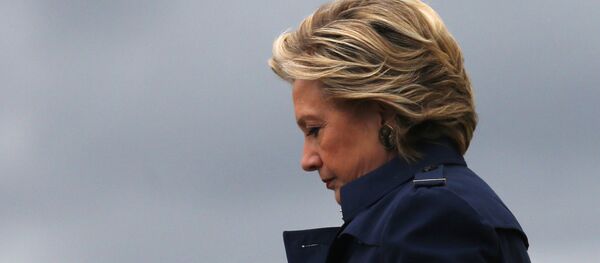 The Wall Street analyst noted that "one thing that leaps out from files at the FBI Vault is that there was a full-scale FBI Investigation into mishandling of classified information by Hillary Clinton, Huma Abedin and others that opened on July 10, 2015, and seems to have continued through and possibly after the November 8, 2016 general election."
"I hope Congress and those with required security clearances will finally be able to review why this investigation was opened and what this investigation found or failed to find, and whether it should have made more progress much faster," Ortel highlighted.
Referring to the case of former Congresswoman Corrine Brown, a Florida Democrat, who was convicted for being part of an $800,000 charity fraud, the investigative journalist underscored that "no one should stand above laws."
"I note that former top officials inside and outside the US have been sent to prison for far less serious offenses that seem in evidence here," Ortel remarked.
The views and opinions expressed by Charles Ortel, Ekaterina Blinova are those of the contributors and do not necessarily reflect those of Sputnik.