New Delhi (Sputnik) — Fear and grief prevail in villages near the Chhindi forest range in India's central state of Madhya Pradesh after three children were killed by a leopard in the last three days. The forest department has launched a massive hunt to trap the elusive big cat, which is understood to have strayed into an area populated by humans.
"The incident has come as a shocker, as such cases of human-animal conflict is not very common in this part of the country owing to the vast forest areas. Recent growth in human population and encroachment of the forest area could be one of the reasons why the villagers encountered the wildcat," Naveen P, senior wildlife writer, and journalist of Madhya Pradesh told Sputnik. 
READ MORE: Indian Villagers Lynch Leopard Near National Capital
The forest department was alerted by locals about the man-eater leopard after it pounced upon and dragged a 12-year-old boy whose half-eaten body was later found in the forest area. A huge team comprising 200 forest guards and around 400 villagers are combing the forest to trace the animal. 
"The leopard pounced on the boy and dragged him into the forest. We kept searching for the boy the whole night in the forest. Finally, we spotted his half-eaten body on Wednesday morning," SS Uddey, district forest officer (DFO) of Chhindwara told the media.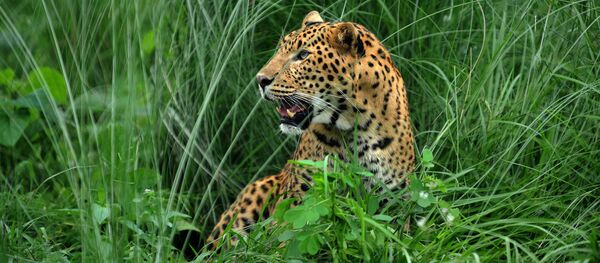 24 November 2016, 12:19 GMT
Forest officials suspect it to be the same leopard that claimed two other victims a day earlier.  The dead bodies of a ten-year-old boy and a five-year-old girl from nearby villages who went missing on Sunday were also recovered from the same forest.
"Villagers who have seen the leopard say it is very agile and fast. It is apparently a young leopard who has started attacking humans. We don't know why. It has never happened in this area earlier. As all the three villages where attacks have taken place are located within a range of 15 to 20 km, it is most likely one leopard that is targeting children," DFO Uddey was quoted by the local media.