WASHINGTON (Sputnik) — The United States has no plans to either sell or transfer TOW anti-tank missiles to Ukraine, US Department of Defense spokesman Johnny Michael told Sputnik on Wednesday.
"There are no plans for either FMS [foreign military sales] or transfers of TOW to Ukraine," Michael said.
On Tuesday, local media reported citing the General Staff of the Ukrainian armed forces that Kiev expects to receive TOW anti-tank missiles from the United States this year.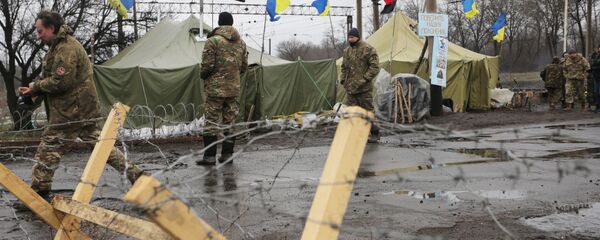 3 January 2018, 21:14 GMT
The statement followed the December announcement by US State Department spokesperson Heather Nauert, who said Washington planned to provide Kiev with military assistance for "purely defensive" purposes that would not violate the Minsk peace accords.
US media cited officials as saying that the United States planned to sell lethal arms to Ukraine, including anti-tank Javelin missiles.
READ MORE: Troubled Waters: US Destroyer Arrives at Ukrainian Port 200 Km Off Crimea
Russia has repeatedly warned against supplies of lethal arms to Ukraine, saying that such actions would exacerbate the conflict in the country's eastern Donbass region, an argument also voiced by former US President Barack Obama when he rejected similar proposals. Russia's stance has also been supported by a number of European officials.
The TOW, which stands for tube-launched, optically tracked and wire-guided missile, is used to defeat armor and fortifications at long distances, according to manufacturer Raytheon.