The Mars Reconnaissance Orbiter has discovered ice sheets 300-feet-thick running just below the Martian surface.
Eight such geological formations with thick ice hiding very close to the surface have already been found on the Red Planet, and are seen by scientists as a valuable resource for potential human explorers of the faraway planet.
"We've found a new window into the ice for study, which we hope will be of interest to those interested in all aspects of ice on Mars and its history," Colin Dundas, a member of the US Geological Survey's Astrogeology Science Center in Arizona, said, NDTV reported.
Mars is believed to contain huge amounts of ice, but this is the first time that ice layers this thick have been detected.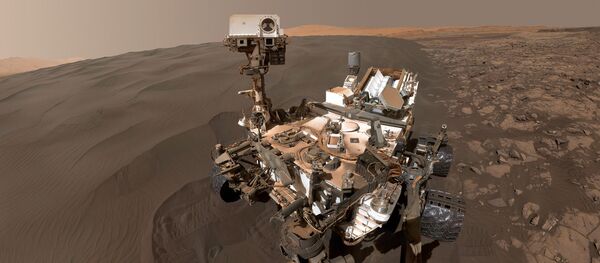 6 January 2018, 11:19 GMT
Images obtained by the
Mars Reconnaissance Orbiter
have helped researchers locate traces of ice cropping out in small craters, glaciers and ice sheets.
"The high-resolution data has greatly improved our understanding of various ice-related land forms," Dundas noted.
Scientists hope that the ice sheets' proximity to the surface will facilitate their being studied using robots.
"This subsurface ice could contain valuable records of the Martian climate, just like the Greenland and Antarctic ice cores," said Susan Conway, a planetary scientist at the University of Nantes in France.
In August, scientists obtained 2.7-million-year-old ice samples from Antarctica containing air bubbles, which offer evidence of climatic conditions before the ice ages began. They could also offer clues as to why they actually occurred.
READ MORE: NASA Scientists: Mars Ice Deposit Ideal For First Colonies
Human explorers might benefit too.
"If we were to send humans to live on Mars for a substantial period of time, it would be a fantastic source of water," Matt Balme, a planetary scientist in Britain, said.