When Edward Snowden first exposed the NSA's illicit mass surveillance in 2013, he became the 'most wanted man in the world'.
To avoid his imminent capture, Snowden needed sanctuary. A place so nondescript that he could go undetected by the secret service forces of entire nations.
In the week between the NSA reveal and his flight to Moscow, Snowden received some crucial support, from the most unlikely of heroes.
Deep in the slums of Hong Kong, a selfless group of refugees from Sri Lanka and the Philippines took Snowden in and sheltered him, despite having barely enough resources to feed themselves.
READ MORE: Snowden's App 'Raises Questions About Using Surveillance for Anti-Surveillance'
Now, facing intense pressure and persecution from the Hong Kong government and the Sri Lankan authorities, Snowden's guardian angels need help.
Edward Snowden said, speaking at the computer communication congress in Germany, "These people, who doubted the legitimacy of the Hong Kong governments approaches to them, the threats, the coercion, the attempts at subversion to make them go against their initial decision- Now they face retaliation. Now they need our help."

Sputnik: After Oliver Stones Hollywood film 'Snowden' unwittingly revealed the identity of the refugees- they were catapulted into a very precarious situation.

Robert Tibbo: We hadn't anticipated the Hollywood film, and we hadn't anticipated Oliver Stone becoming aware of the existence of the refugees. So the clients were put in a very difficult position. Myself as Robert Tibbo, I only have a limited number of clients who are refugees. It would be a matter of time before the Hong Kong government would be knocking on the doors of each one of my clients.

Sputnik: To avoid that, the refugees made themselves known, which led to their being illegally targeted by agents from Sri Lanka. The situation mounted to such urgency, that from a humanitarian perspective, the refugees should have been granted immediate asylum, in Hong Kong or in Canada — but neither country has jumped to aid.

Robert Tibbo: The Hong Kong government clearly wants our clients to their cases to be decided as soon as possible, and to have them deported, removed from Hong Kong.

Sputnik: Robert Tibbo is the humanitarian lawyer of Edward Snowden and his 7 Guardian Angels, he explains why Hong Kong is hesitant to help.
Robert Tibbo: The Hong Kong government wants to make an example of the Snowden Guardian Angels, and the example is: You don't protect a whistleblower. If you protect a whistleblower, this is what will happen to you.

---
Sputnik: Snowden states how the government's treatment of the refugees acts as a threat to others.

Edward Snowden: "They show that there are things that are wrong, that the system is broken, they show that things can work better when people understand it. When somebody shows the flaw, when these people become the proof of concept, suddenly there is pressure for change, and caring begins, and suddenly, progress seems realistic."
---
Sputnik: Hong Kong has an asylum admittance rate of less than 1% in most areas, it is extremely low, but what about in Canada where Robert Tibbo has been working to secure permanent asylum for the Guardian Angels? Canada accepts almost 70% of applicants- but Tibbo's case was derailed not too far into the process.

Robert Tibbo: The Canadian Government wrote to us, and said that they will be processing the Snowden Guardian Angels Refugee claims in a chronological order. And that means, in 52 months. Almost 4 and a half years.

Sputnik: This was damning news to Tibbo and Snowden's refugees, who were facing harsh retaliation in Hong Kong, where their resources had been cut, and two of the children denied basic educational rights.
Robert Tibbo: Why is the Canadian government having such difficulty with seven people, if they are taking in tens of thousands of asylum seekers every year? So everything points towards political pressure, political considerations. And to make it clear, Mr. Snowden, when he was in Hong Kong, had never committed any criminal offense, he was not a fugitive from justice. There was no warrant for his arrest, and the United States had failed to send through a proper extradition request. Fundamental to that request, is they requested the extradition of a man names 'Edward James Snowden'- my client's names is 'Edward Joseph Snowden'. So the Hong Kong government had noticed the defect in the name and there were other defects in the US extradition request. So my clients never harbored a fugitive. They never aided a fugitive. All they did was treat a fellow refugee claimant with empathy, humanity and kindness.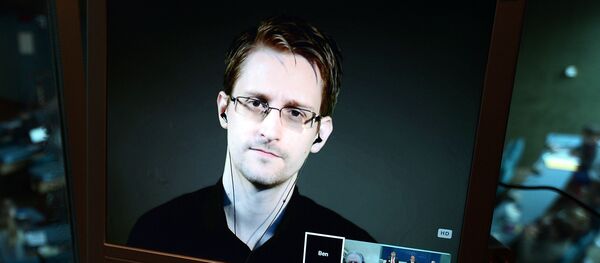 29 November 2017, 07:01 GMT
Sputnik: According to Robert Tibbo, the Hong Kong government has therefore failed to protect the Snowden Refugees and in fact have taken steps to put them in harms' way, both in Hong Kong and their countries of origin.
Robert Tibbo: Now these seven people selflessly helped Mr. Snowden. They need to be seen in that light. That they protected somebody who exposed the criminal conduct of the US government, but also the Five Eyes, the US, Canada, UK, New Zealand and Australia. There are only seven Snowden Guardian Angels. It's my view my clients really stand alone. Their stories are unique and exceptional. We're asking the Canadian Government to look at their cases from this standpoint, and to process their claims immediately, and to get them out of Hong Kong and into safety.
The views and opinions expressed by Robert Tibbo in this article are those of the speaker and do not necessarily reflect the position of Sputnik.