Earlier in the week, media reported that Saudi Crown Prince Mohammed bin Salman informed the Palestinian leadership about the details of the US-proposed deal.
"We said 'no' to Trump. We will not accept the so-called 'deal of the century'… We will not recognize the United States as a mediator in the negotiations with Israel," Abbas said at an extraordinary meeting of the Palestine Liberation Organization's Central Committee devoted to Washington's recognition of Jerusalem as the capital of Israel.
Abbas also indicated that he had already declined the offer to meet with US Ambassador in Israel David Friedman.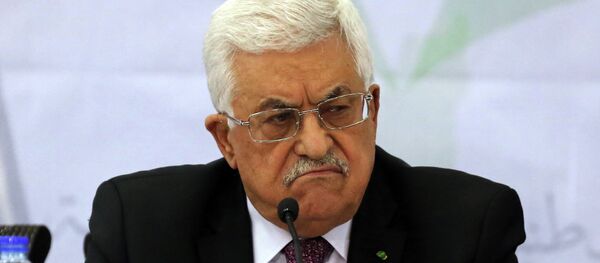 1 January 2018, 08:52 GMT
The Palestinian leader reiterated that he would pursue a resolution to the Middle East conflict that provides for the establishment of a Palestinian state along the borders of 1967, with East Jerusalem as the capital.
"Jerusalem is our capital whether they want it or not. We will stay here and we are not going anywhere despite [Israel's] occupation and settlements [on the Palestinian territories]," Abbas said.
The US authorities have stated on numerous occasions that Washington has been preparing a "deal of the century" that will ensure a comprehensive regional peace process and will put an end to the Israeli-Palestinian confrontation. Nevertheless, the details of the plan remain unclear.
For decades, Israel has been in conflict with the Palestinians, who had been seeking diplomatic recognition for their independent state on the territories of the West Bank, including East Jerusalem, which are partially occupied by Israel, and the Gaza Strip. Tensions between Israel and Palestinians flared up after US President Donald Trump's December decision to recognize Jerusalem as Israel's capital and relocate the US embassy to the city from Tel Aviv.