The new Conservative government led by Prime Minister Erna Solberg has agreed to phase out the last fur farm by 2025, dismaying producers and delighting animal rights activists. This step is part of a deal to boost her two-party minority government to include the anti-fur Liberal Party.
According to Humane Society International, which campaigns against the fur trade, Norway will become the 14th European nation to eradicate fur farming.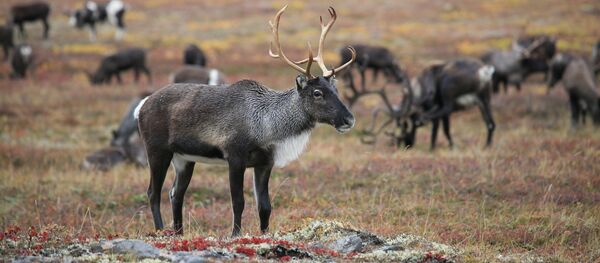 23 December 2017, 00:38 GMT
At present, Norway has about 200 fur farms, employing about 400 people. With an annual production of about one million fox and mink pelts under strict regulation, the industry generates up to NOK 500 a year ($63 mln).
Animal rights group NOAH, which has been campaigning for a fur ban for several decades, hailed the decision as part of a cultural shift against what is perceived to be a cruel and outdated business that is becoming increasingly less appealing to nature-conscious consumers.
"We're very pleased," NOAH leader Siri Martinsen said.
​By contrast, the decision sent shockwaves among the Norwegian farmers engaged in fur breeding.
"We're shocked and shaken to the core," Guri Wormdahl of the Norwegian Fur Breeders Association told the newspaper Bondebladet. "This is very serious. We are very disappointed to be sacrificed like that," his fellow fur breeder Bertran Trane Skardsem told national broadcaster NRK.
Norwegian fox farming peaked shortly before the outbreak of WWII, when the Nordic nation ranked as the world's top producer with almost 20,000 farms, a hundred times as many as today.
READ ALSO: Catcalls: Swedish Zoo Chastised for Culling Healthy Lion Cubs
In subsequent decades, however, Norway's share has dwindled to a meager three percent of the 7.3 million fox fur international market, largely dominated by China, followed by Finland. Similarly, Norway's mink output is equal to about one percent of the international market, again dominated by China.
​Fur farming expert Sveinung Fjose of Menon Business Economics said it was no longer a particularly lucrative business, venturing it "wouldn't harm the economy severely" to close it down.
Norway's decision was welcomed in neighboring Sweden, which currently has about one million minks on fur farms (versus approximately 700,000 in Norway). The Swedish government was reportedly mulling a further investigation of the issue.
"This is great news, both for all those animals that are now bred and killed for their fur in Norway, but also because it sets a good example for Sweden and the forthcoming Swedish investigation," Camilla Björkbom of the Swedish NGO Animal Rights said, as quoted by national broadcaster SVT.
READ ALSO: Farewell, My Friend! Danish Zoos Accept Pets as Predator Feed