Mustafa Sejari, a senior representative of the Free Syrian Army (FSA) said that the group's envoys who visited Washington explained to US officials the downsides of President Donald Trump's decision to shut off the CIA-facilitated supply of weapons to certain rebel groups in Syria.
"We asked for the resumption of aid and explained the dangers of leaving moderate FSA forces without support," Sejari said.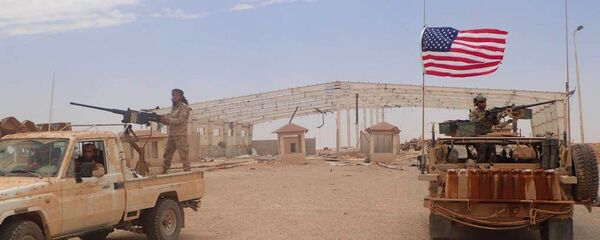 14 January 2018, 15:01 GMT
According to him, these measures would be necessary to fulfil Trump's intent to "confront Iranian hegemony in the region" and to curtail the activities of "the Iranian militias that are expanding without serious resistance."
"With every US statement about the need to confront Iran's influence, Iran has been expanding in Syria while moderate forces that are backed by Washington see aid being dried up and are weakened," the FSA representative complained.
Sejari added that the FSA delegation included recipients of the CIA-led program in question, launched in 2013 and used to supply money, weapons and instructors to select rebel groups opposing the government of Syrian President Bashar Assad.
The CIA came under fire in March 2016 when a CIA-backed rebel group based in northern Syria was attacked by the Pentagon-backed, Kurdish-dominated Syrian Democratic Forces.
Earlier, in 2015, it was admitted that a large proportion of the weaponry originally intended for 'moderate' rebels eventually found its way into the hands of the internationally-condemned terrorist groups Al Nusra and Daesh, either due to FSA defections or their sale on the black market.