Monday's demonstrations at the Fleury-Merogis prison in the Paris suburbs saw about a hundred guards gathering to voice their concerns, chant slogans, and burn wooden pallets in protest against the rise of inmate violence against guards, insufficient staff, and a lack of legal and other resources to deal with the dangerous ex-jihadists they have been tasked with jailing. 
A Sputnik France correspondent was on the scene, and secured an interview with a union representative from the Union Federale Autonomoe Penitentiare (UFAP), one of the country's prison guard unions, who concisely formulated the guards' concerns.
"Today, there is a big problem for the safety of personnel. At Fleury-Merogis, prison overcrowding has reached 150%," the official explained. "How does this manifest itself? Today there are 90 prisoners for one corrections officer. Add to this the problem of the Islamist terrorists who are also held in our prison, and who are not isolated from the rest of the prison population, except in special cases where the prisoner is kept in a special block."
"What exactly does this mean for the prison guard? He is asked to pay special attention to this prisoner with radical views or who has been accused of terrorism. But he also has 89 other people in his charge. This situation is completely unbearable," the rep added.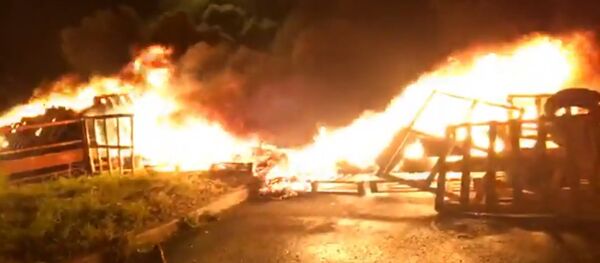 16 January 2018, 10:32 GMT
Another protester, who works as a guard at the prison, told Sputnik that "the problem with the attack on the guards at Vendin-le-Vieil Prison is that there are no structures in place today in France for prisoners of this kind."
"Fleury-Merogis also contains inmates with radical views, and I will be honest: this is a very difficult situation for us," the guard said. "It is dangerous to be near prisoners for whom we are the embodiment of everything they hate; for whom we, by definition, are the enemy. They have the potential to harm us. Today, our legislation is not adapted for these kinds of prisoners. And the problem is that there will be more and more of these kinds of inmates as some very dangerous people continue to come back from Syria," he added.
According to the guard, what France's prison guard unions are demanding is the creation of special, separate institutions for the kinds of prisoners who must be isolated from the general population, and who pose a danger of radicalizing others. In addition, prisons need the resources that would help prevent the kind of loopholes which allowed for the attack at Vendin-le-Vieil to take place. "Today, there are no such special institutions, no legislative norms," the protestor said.
The guard emphasized that protests will continue until the situation is dealt with. "As I often say, if you do nothing, you have resigned yourself to the situation. We have not resigned ourselves and no longer want to put up with this whole situation."
Protests over inmate violence against guards continued into Tuesday night.
Vendin-le-Vieil's prison's director resigned Monday following last week's stabbing attack by a former al-Qaeda member during transfer which resulted in the injury of three guards. Guards unions have accused authorities of failing to deal with upwards of 4,000 recently reported cases of violence against guards. President Emmanual Macron has vowed to develop an action plan to deal with the situation by next month. The president has faced heat over recently adopted counterterrorism laws replacing the country's two year state of emergency, with critics suggesting the laws compromise civil liberties.