"American voters support 73 — 21 percent, including 49 — 40 percent among Republicans, legislation to allow undocumented immigrants brought to the US as children — Dreamers — to remain in the United States legally," a press release summarizing the poll stated.
Permanent residency for dreamers has also won broad support from both Republicans and Democratic members in Congress.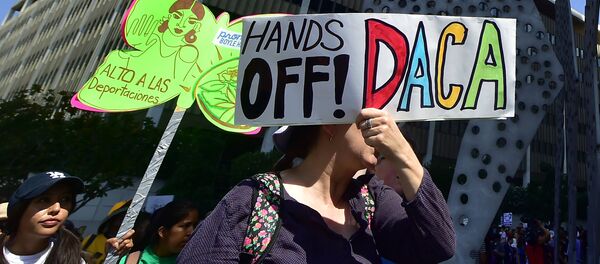 16 January 2018, 21:28 GMT
However, a dispute over legislative details has gridlocked the US Senate, threatening passage of a budget law that is needed to keep the federal government open beyond Friday.
"While Washington roils over what formula will bring sense to the raucous and ugly immigration debate, voters put it simply: Dreamers should be allowed to live the dream," Quinnipiac Polling Assistant Director Tim Malloy said in the release.
Former President Barack Obama protected dreamers from deportation with an executive order. However, legal experts say a law is needed to make the Obama order legal, because the Constitution gives Congress authority over US immigration policy, not the president.