In the new US defense strategy, presented by Defense Secretary James Mattis, Russia and China were called "revisionist" powers that "seek to create a world consistent with their authoritarian models."
It is the first time in the 21st century that the US pointed out specific states as adversaries, following years of prioritizing fighting an elusive global War on Terror.
"We will continue to prosecute the campaign against terrorists that we are engaged in today, but great power competition, not terrorism, is now the primary focus of US national security," Mattis said in a speech presenting the strategy document.
The strategy caused an expected critical reception from Beijing who called the policies and opinions "cold war and zero-sum game mindset."
"If some people look at the world through a cold war and zero-sum game mindset, they are destined to see only conflict and confrontation," Xinhua quoted a spokesman for China's embassy in the United States. "With such a mindset, global peace and development are unattainable ideals."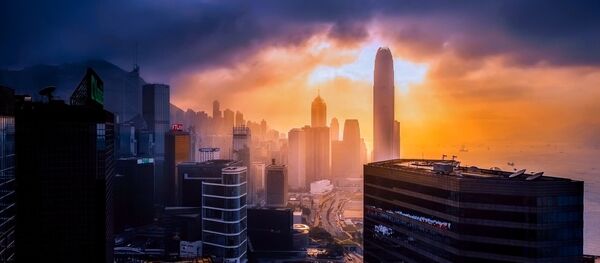 20 January 2018, 21:35 GMT
The embassy underscored that China seeks "global partnership, not global dominance."
Experts noted, however, that there is more to the new foreign policy strategy than pointing fingers.
According to Sow Keat Tok, specialising in Sino-US relations at the University of Melbourne, Australia, there is principal difference.
"By identifying China as the possible enemy of the US, when the US plans for their military procurement and strategies in the future, they will take into account more of China's capabilities before they decide on anything […] it is the intentional targeting of Chinese military capacity that is changing [in the latest strategy]," he said, comparing this approach to the Cold War confrontation between the USSR and the United States.
"Every military platform that the US or Soviet Union procured had a direct implication against the other's capabilities," Tok noted, according to the  South China Morning Post.
"So [the US] is not so much about having a peacetime military anymore but one that is to win a war against the Chinese and Russians."
The geopolitical outline is different, though. According to Shi Yinhong, director of American Studies at Renmin University in Beijing, during the Cold War, the frontline between the two worlds was clear. These days, the frontline is ambiguous, "due to the growing ties countries have with each other," adding that knowing which countries are "US allies in Asia is not as clear."
But pointing out China as an adversary will make this frontline more clear, forcing uninvolved countries to join one side or another. Tok noted.
"By identifying China as a rival, they are forcing a lot of Asian countries to choose between the two powers," Tok said. "For many Asia-Pacific states, China is a geographical reality that they have to deal with directly."
"This is actually putting them in a very difficult position," he said, adding, "they might increasingly alienate themselves from the States."