Brigadier-General Luqman said that the army now has all it needs to repel "enemy aggression" at sea, on the ground and in the air.
"The Yemeni army has taken over many enemy strongholds, which has changed the situation on the battlefield," the general said.
"These are depots with arms for the Air Force, night-vision cameras, ballistic missiles and launchers. This answers questions about where we are getting weapons amid the current blockade; who who is helping us; and whether Iran is supplying us with ballistic missiles and military advisors," he added.
He said that in the next few days, the Sana'a army would "greatly surprise" coalition forces.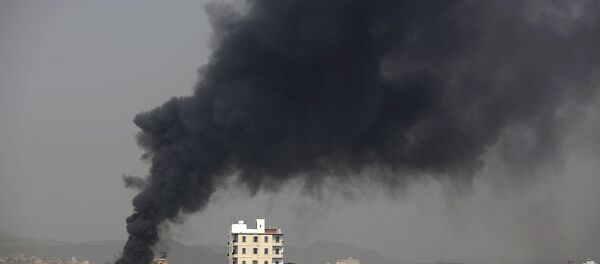 8 January 2018, 10:08 GMT
"This will be commensurate with the attack on the Saudi's Al-Dabaa military base [in the southern Najran province killing all Saudi military personnel stationed there], and the Panavia Tornado and F-16 planes we shot down," General Luqman warned.
He said that the "information war" unleashed by the Saudi-led coalition is giving a distorted picture of what is really going on  in Yemen.
"They are trumpeting their imaginary victories. If such victories really had happened and they could prove it, then all global media would have learned about them and reported them," Sharaf Luqman emphasized.
He said that a peaceful settlement was the only way to end the long-running crisis in Yemen.
"We need a two-pronged negotiating process: on the international track, we need to negotiate with the Arab coalition, and we also need to talk to all forces and movements inside this country," the Brigadier-General concluded.
Yemen has been engulfed in a violent conflict between the government, headed by President Abd Rabbuh Mansur Hadi, and the Houthi Shia movement, now in control of the capital Sana'a, was backed by army units loyal to former President Ali Abdullah Saleh since 2015.
The Saudi-led coalition has been participating in the military conflict in Yemen since March 2015 upon the request of President Hadi.
READ MORE: Riyadh Says Another Missile From Yemen Intercepted, This One Targeting Jazan