Currently engaged in at least three ongoing corruption scandals for which he has been repeatedly deposed by government officials, Netanyahu has denied wrongdoing while evidence of influence peddling, fraud, bribery and breach of the public trust mounts.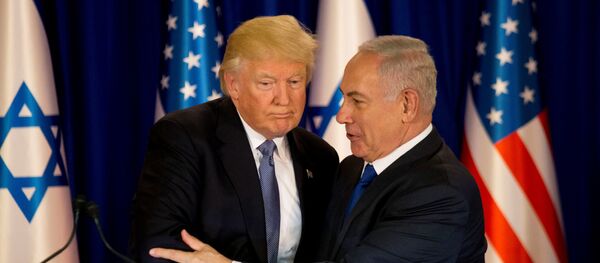 21 January 2018, 20:09 GMT
The Saturday demonstration — the eighth consecutive weekend protest demanding that the unpopular prime minister resign — saw marchers holding up signs saying "Crime Minister," according to Presstv.com.
Chanting slogans including: "Shame," "Bribe, bribe, bribe," "Corporate power, organized crime," "The people demand social justice," "We won't give up," and "We are obliged [to rally every Saturday until the prime minister steps down], the assembled marchers numbered in the low thousands, down from a high of over 10,000 earlier in the month.
"This is a struggle that is persisting, Saturday after Saturday," said protest organizer ldad Yaniv, cited by Press TV.
Demonstrator Aylon Vaidya stated that he was marching to save Israel and because "the prime minister and his friends are full of corruption."
The Israeli cities of Haifa, Afula and Petah Tikva staged similar anti-corruption rallies coinciding with the Saturday Tel Aviv march.
Demonstrators heckled Israel's Attorney General Avichai Mendelblit in Petah Tikva, claiming that the lawyer is moving too slowly in completing the investigations surrounding the accusations against Netanyahu.
Netanyahu is accused of several incidents, including involving the receipt of expensive presents from wealthy businessmen, and negotiating deals with a media mogul for favorable reporting of his policies.
An additional scandal, the so-called submarine affair, involves arms buying and influence trading with Netanyahu and several associates.