In an emotional speech, Johansson took aim at James Franco, calling out to his, according to her, hypocrisy in wearing a Time's Up pin during the recent Golden Globes, when he himself has been accused of sexual misconduct by several women.
Hollywood's highest grossing actress did not say James Franco's name specifically during her speech, but her representatives later confirmed that her words were directed at him.
"How could a person publicly stand by an organization that helps to provide support for victims of sexual assault while privately preying on people who have no power? … I want my pin back, by the way," Johansson said during her speech.
She also expressed her indignation on abuse of power and extended her support to women who have been abused.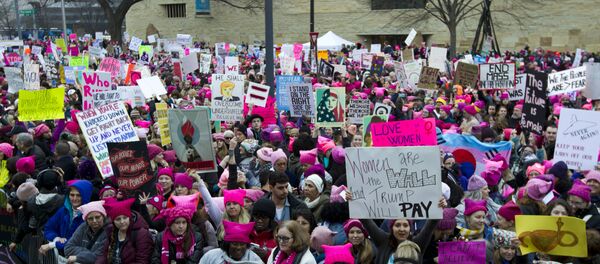 21 January 2018, 19:38 GMT
Johansson then related her own personal experience: "Suddenly I was 19 again and I began to remember all the men who had taken advantage of the fact that I was a young woman who didn't yet have the tools to say no, or understand the value of my own self-worth."
The actress went on to say, "No more pandering. No more feeling guilty about hurting someone's feelings when something doesn't feel right for me. I have made a promise to myself to be responsible to myself, that in order to trust my instincts I must first respect them."
Social media was abuzz following her speech with many supporting her remarks.
While some people criticized her, recalling that in 2006 she stood by director Woody Allen when he was accused of sexual abuse by his step daughter.
​Following the Golden Globes, which took place on January 7, James Franco has been accused by five women of sexual misconduct, although he has denied the allegations.