According to media reports, the ground phase of the Turkish operation against Kurdish fighters and Daesh positions in northwest Syria started early on Sunday after Turkish President Recep Tayyip Erdogan ignored Washington's calls to avoid attacking Afrin.
This video released now showing Turkish Army M60A3 Main Battle Tanks and M113 Armoured Carriers advancing toward #Afrin #Syria almost 2 hours ago. pic.twitter.com/2aVkoXcPf4

— Babak Taghvaee (@BabakTaghvaee) 20 января 2018 г.
Earlier, Turkish Prime Minister Binali Yildirim warned of a possible ground operation against Kurdish forces in Syria's northern Afrin district.
Tanklar, Kilis'ten Suriye'ye geçti https://t.co/TZH6gSn8n8 pic.twitter.com/Kj7jUTofaw

— Doğan Haber Ajansı (@dhainternet) 20 января 2018 г.
"Today our air force hit most of the designated targets. Tomorrow, depending on the circumstances, our ground forces will carry out the necessary work. They will move together with the Free Syria Army," Yildirim told reporters on Saturday.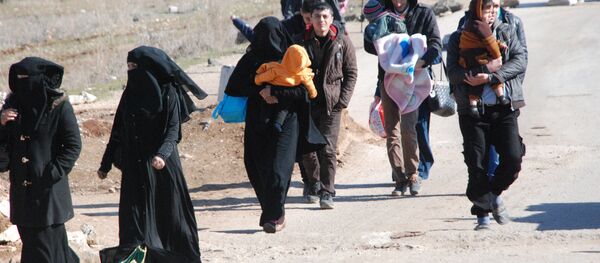 20 January 2018, 23:19 GMT
However, Turkish
troops
will leave the northern Syrian district of Afrin as soon as the armed forces achieve the goals of the recently launched military operation Olive Branch, Turkish Deputy Prime Minister Bekir Bozdag said Saturday.
"The operation is not against our Turkmen, Kurdish or Arab brothers living there [in Afrin], but against the terrorist groups. It has been launched with a respect for Syria's territorial integrity, sovereignty and political unity, and will be carried out taking these principles into account. After the operation reaches the assigned tasks, Turkey will leave Afrin," Bozdag said, as quoted by Ihlas News Agency.
#Turkey has assembled hundred of tanks to attack Kurds in #Afrin. Only as reminder, t; there was no any attack of threat from Afrin against Turkey. This is simply war of aggression! pic.twitter.com/HRc0Tb75x9

— Aram (@AramKrdstn) 20 января 2018 г.
Meanwhile, Syria fired three rockets early on Sunday targeting the Turkish border province of Kilis and lightly injuring one person, media reported citing local governor. According to Anadolu news agency, the rockets hit several locations in the provincial capital of Kilis and damaged some buildings in the area.
Kilis'e 4 roket atıldı: 1 yaralı https://t.co/eNUWAWyJso pic.twitter.com/c84wbn3MH7

— Doğan Haber Ajansı (@dhainternet) 21 января 2018 г.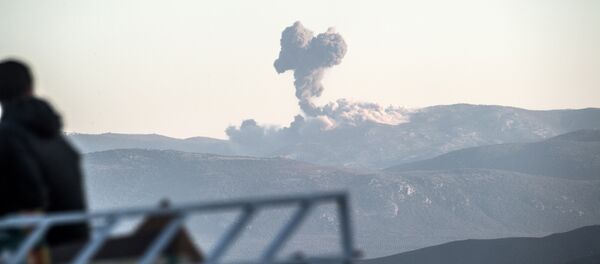 20 January 2018, 21:27 GMT
The incident comes in the wake the bombardment by the Turkish Air Force targeting local Kurdish militia in the northern Syrian district of Afrin.
The military operation has already been condemned by Damascus and the Syrian Foreign Ministry claimed that Operation Olive Branch was a violation of Syrian sovereignty.
Turkey is claiming self-defense under international law. According to the statement of Turkish senior military officials, operation Olive Branch is aimed at eliminating Kurdish YPG militants along with the Daesh terrorist group.
The operation started at 14:00 GMT on Saturday and over 70 Turkish warplanes conducted airstrikes in seven districts of Afrin, where 108 targets were hit.