The US government shutdown raises questions about the viability and legitimacy of America's political system, Chinese state media has reported.
It also said that the suspension of the work of certain government agencies, financed directly by the US Congress, due to the failure to pass the funding bill for the next fiscal year, exposed "chronic flaws" in America's political makeup.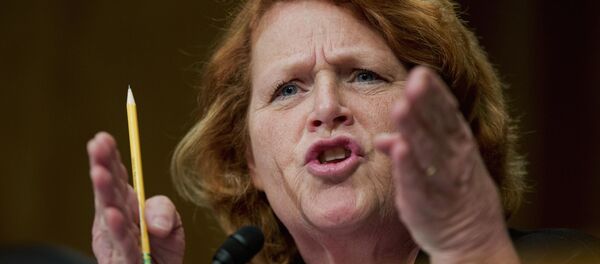 21 January 2018, 00:13 GMT
"What's so ironic is that it came on the first anniversary of Donald Trump's presidency on Saturday, a slap in the face for the leadership in Washington," China's Xinhua News Agency said in a commentary.
It pointed to the lack of cooperation across party lines as the only "legacy that has survived" last year's "transfer of power" in Washington, adding that the Trump administration had backtracked on the policies of his predecessor, Barack Obama, by opting out of the Trans-Pacific Partnership trade agreement and ending US participation in the Paris agreement on climate change.
"What's happening in the United States today will make more people worldwide reflect on the viability and legitimacy of such a chaotic political system," said the commentary by the state-run Xinhua news agency, which reflects Beijing's official position domestic and foreign policy issues.
The US government shut down at midnight on Friday after Democrats and Republicans in the Senate failed to reach a last-minute deal to fund its operations, divided in a bitter dispute over immigration, border security and Democratic concerns about young undocumented immigrants known as Dreamers.
President Trump had earlier rejected a bipartisan proposal to let juvenile immigrants brought to the US as children to obtain temporary legal status.
READ MORE: What You Need to Know About US Government Shutdown