The Turkish operation is nothing short of an effort to "cleanse" the Syrian city of Afrin from ethnic Kurds, security analyst Mark Sleboda told Sputnik.
​"Turkey was candid," US Defense Secretary James Mattis said Sunday regarding Ankara's plan to lay siege to the US-backed Kurdish militia in Afrin. "They warned us before they launched [the airstrikes that] they were going to do it," Mattis told Reuters on a flight to Asia January 20.
Mattis did not disclose Washington's stance on the Turkish operation, except to point out that Turkey was the only NATO member with an ongoing insurgency inside its borders. "Turkey has legitimate security concerns," he said.
"The low-hanging fruit of ISIS [Daesh] has largely been defeated," Sleboda told Radio Spuntik's Loud & Clear on Monday, but the seven-year long crisis in Syria is "nowhere near ending."
The situation has resulted in a "three-way Mexican standoff," Sleboda said. The major parties consist of the allied Russian and Syrian governments; Turkey and aligned proxy groups including "what was once the Free Syrian Army, Ahrar al-Sham and Al-Qaeda's iteration, Hay'at Tahrir al-Sham, HTS;" and finally "the US and its proxy, the Syrian Democratic Forces," the analyst explained.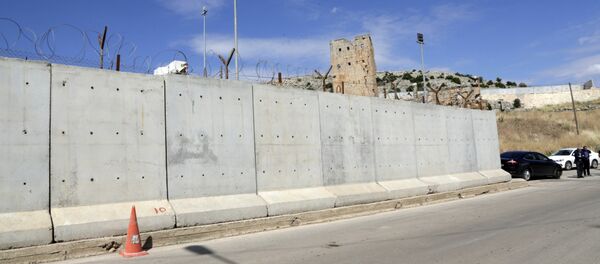 21 January 2018, 22:29 GMT
A recent plan to build a 30,000-strong "border force" to defend territory held by US-supported and Kurdish-led forces in Syria enraged Turkish President Recep Tayyip Erdogan. The Turkish leader vowed last Monday that Turkey would "strangle" any such group "before it's even born," Reuters reported.
The name was changed to a "stabilization force" in an effort "to assuage Turkey," Sleboda said, but US Secretary of State Rex Tillerson announced last week that, in any event, the US will "maintain" a military presence in Syria. Justifications for the US military presence have ranged from preventing Daesh's resurgence to "countering Iranian influence, as if Syria doesn't have the right to say who its allies are and aren't," Sleboda noted.
In response, the Syrian Foreign Ministry stated on January 18 that "the American military presence on Syrian land is illegitimate and represents a blatant breach of international law." Turkey was not pleased with the announcement, in addition to the US' refusal to take back weapons supplied to Kurdish fighters, Sleboda said.
"Evidently, the Russian and the Syrian governments went to Afrin and said: 'If you'll raise the Syrian flag, allow the Syrian Army in and recognize that we're your government… then we can protect you.' The Kurds said no," Sleboda explained. "That was basically the green light Turkey needed" to start its military operation, he added.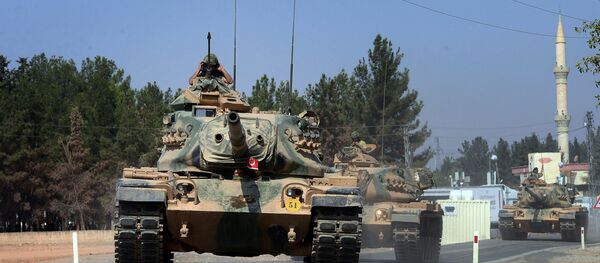 21 January 2018, 21:43 GMT
Analyst have have pointed out how quickly the US left the side of Kurdish fighters who have "proven their effectiveness" in helping to "shred [the Daesh] caliphate in Syria," according to Mattis' description of the Kurds on Sunday.
"I can't get my head around how helpful Kurdish fighters were against [Daesh] compared to the Free Syrian Army and especially Turkey," Max Abrahms of the Council on Foreign Relations said Saturday, adding that the "Free Syrian Army has teamed up with Turkey to crush the Kurds in the name of counterterrorism. They should call this Operation Irony."
Abrahms also observed the intriguing development that "Turkey wasn't pro-ISIS enough by allowing foreign fighters unfettered access in and out of Syria, so now Turkey is trying to destroy the best fighting force against ISIS."