Several hundred Macedonians, infuriated by the idea of their territory being divided between Albania, Greece, Serbia and Bulgaria responded by burning the European Union and NATO flags in front of the Macedonian Parliament.
Skopje political analyst Aleksandar Mitevski told Sputnik that the map was an assault against Macedonia's sovereignty rather than a feeble political joke.
"Since the declaration of Macedonia's independence, Bulgarians have been claiming that Ohrid is their city, as well as part of eastern Macedonia all the way to Strumica, even ministers were claiming that. For many Bulgarians Macedonia is a territory that was separated from their homeland, and they believe that eventually it has to be returned. Albania, for its part, is interested in the western part of Macedonia, cities like Veles and Struga. Moreover, even former Serbian military leadership used to refer to the northern part of Macedonia as Southern Serbia. Needless to say anything about Greece," Mitevski said.
"This map expresses aspirations that have existed for years", he said, referring to Russian Foreign Minister Sergey Lavrov who said back in 2015 that "there is talk that Macedonia needs to be federalized even deeper, and ideas have even been floated as to why not dismember it and give part of it to Albania and another part to Bulgaria".
​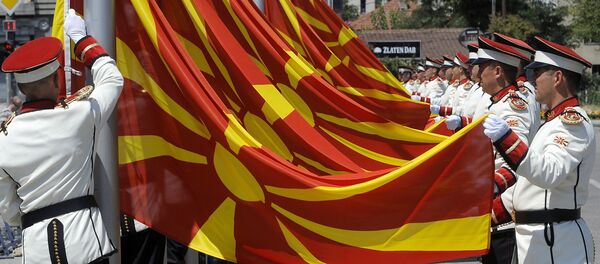 27 August 2017, 11:09 GMT
According to Mitevski, the burning of the EU flag in front of the Macedonian Parliament was a spontaneous reaction of the country's citizens who are simply "fed up". He recalled Macedonians burning EU and NATO flags in 1999 during the aggression against Yugoslavia. 
Meanwhile, Albanian portal Antipres that published the map of divided Macedonia wrote that "the appearance of such a map is… a serious provocation for peace in the Balkans. We hope this is a bad joke on the back of the cold and difficult economy of Greece."
The views and opinions expressed by Aleksandar Mitevski are those of the contributor and do not necessarily reflect those of Sputnik.