Turkish Foreign Minister Mevlut Cavusoglu on Thursday denied reports that Germany had frozen the supply of Leopard main battle tanks to Ankara in light of the ongoing Turkish military operation in northern Syria.
"A commission was scheduled to meet to discuss Leopard tanks, but the meeting was postponed. Meanwhile, no issue of freezing or canceling [the deliveries of Leopard tanks] has been raised," Cavusoglu told reporters.
Earlier, Turkey's foreign minister, in response to the news about freezing of the country's requests on Leopard tanks, called Germany Turkey's ally and said that Ankara expects "support and solidarity" from Berlin.
Ankara's statement comes after German government's spokesperson confirmed the report by Spiegel which stated that German Chancellor Angela Merkel and Foreign Minister Sigmar Gabriel reached an agreement that only a possible new government formed by a coalition of the Christian Democrats (CDU) and and Social Democrats (SPD) should decide on any arms deliveries to Turkey.
"Concerning the current discussions about arms exports, the Federal Government is clear about the fact that Germany can not send arms in conflict areas and is not going to do so," Gabriel told Spiegel.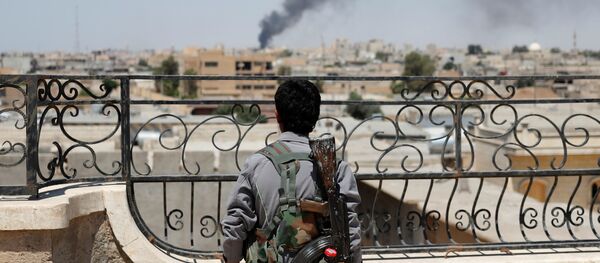 25 January 2018, 10:54 GMT
Suspending of arms deliveries to Turkey is believed to be a move aimed at easing tension in German society, as images of German Leopard tanks being used by the Turkish army in its offensive in Syria
are making the German public feel increasingly uncomfortable
.
The aim of the Turkish operation in the Syria's North, which continues for the sixth day already, is to eliminate Kurdish groups which Ankara considers to be terrorists, in particular the Kurdish militia YPG (People's Protection Units). However, Germany as well as the US consider the YPG units to be an effective force in fighting Daesh in the region.
READ MORE: Turkish Foreign Minister Expects US to Back Ankara in Syria, 'Not Terrorists'
Ankara's operation, dubbed Olive Branch, started after the US announced it is going to train a 30,000-strong border force at Syria's northern borders, which will largely consist of the Kurdish militias considered to be terrorist organizations by Turkey.
Turkey expressed its resentment over Washington's plans, with President Erdogan vowing to "strangle" the "terrorist army," which the US creates near its borders.
READ MORE: Turkey's New Syrian Offensive Divides Global Community

25 January 2018, 12:30 GMT
In the wake of the launch of Turkey's offensive in Syria, Germany recognized that Turkey has "legitimate security interests along its border with Syria," according to the German Foreign Ministry's deputy spokesman, Rainer Breul.
This position echoed the US stance, as Pentagon's spokesman stated that America understands Turkey's legitimate concern over security at its borders.
Russia, in its turn, noted responding to the situation in Syria, that the principle of preserving Syria's territorial integrity and sovereignty is fundamental.