"Puigdemont's status does not allow him to attend a [parliamentary] session [to discuss potential candidates for Catalan president] as he is wanted. Once he is on the Spanish territory, he must be arrested," de Santamaria told a press conference.
According to de Santamaria, the Spanish authorities requested the State Council's opinion regarding the former Catalan leader's nomination as they consider it "non-compliant with the law."
READ MORE: Catalan Ex-Head Says Able to Run Regional Gov't Via Internet if Re-elected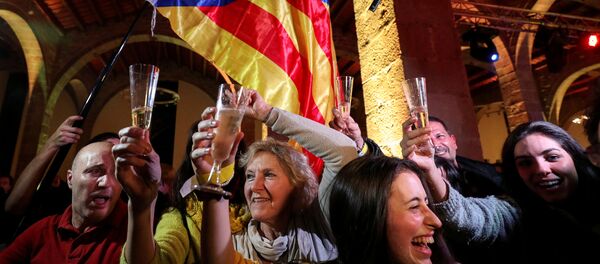 21 December 2017, 22:43 GMT
Following the Catalan independence referendum and the adoption of a resolution on the region's independence from Spain in October, the Spanish parliament's upper house voted to invoke Article 155, introducing direct rule by Madrid over Catalonia.
Rajoy then dismissed the Catalan government and its head, and called a snap parliamentary election that took place on December 21, with the region's pro-independence bloc winning an absolute majority in the parliament. Puigdemont is facing arrest over charges of rebellion, sedition and misuse of public funds given his role in Catalonia's independence referendum, which was declared illegal by Madrid.