The Russian forward from the NHL team Washington Capitals, Alexander Ovechkin, won the hardest shot at the NHL All-Star skills competition on Saturday night.
Ovechkin shot the puck at a speed of 101.3 miles per hour (162.5 km / h) becoming the first striker since 2002, to win the competition for the hardest shot, after the Russian Sergei Fedorov, who played for the Detroit Red Wings.
This weekend five players: Ovechkin, Nashville Predators defenseman P.K. Subban, San Jose Sharks defenseman Brent Burns, Lightning forward Steven Stamkos and Dallas Stars defenseman Jacob Klingberg skated up to a stationary puck before taking their shots to win the $25, 000 prize.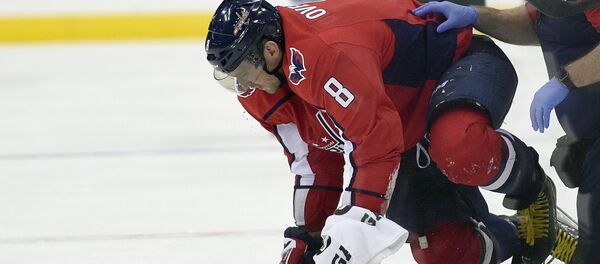 19 November 2017, 10:12 GMT
The NHL's continuing hardest shot winners Boston Bruins defenseman Zdeno Chara and Montreal Canadians defenseman Shea Weber
were not selected
as all-stars this year.
"Of course it's special to get that kind of win," Ovechkin said. "Because obviously, Chara is not here, Weber is not here, and you put those guys [in the competition] you probably don't even try."
Ovechkin reached 98.8 on his first attempt, but he wanted to see if he could break 100.
"Yeah, why not?" Ovechkin said, before pausing and breaking into a big smile. "And I did. I was pretty happy."
Ovechkin who is the captain of the Metropolitan Division team at this weekend's NHL All-Star Game, will now lead the team in athree-on-three tournament, on Sunday afternoon. 
The 32-year-old currently leads the NHL with 30 goals.