With Bitcoin stalling and even losing in value,  the Ethereum, the second most valuable cryptocurrency, is soaring to new records gaining a hefty 6.2 percent on Monday to $1,220, while Bitcoin shed 1.8 percent closing at $11,540.
According to cryptocurrency ratings released by the Florida-based Weiss Ratings firm, Bitcoin received a "fair" C+ grade, while Ethereum, the second most valuable cryptocurrency, received a "good" B rating.
The ratings agency said that Bitcoin faces major challenges that have resulted in delays and high transaction costs, without immediate plans for an upgrade.
"Despite intense ongoing efforts that are achieving some initial success, Bitcoin has no immediate mechanism for promptly upgrading its software code," the agency said.
None of the 74 cryptocurrencies covered by Weiss Ratings received an "excellent" A rating, with B-rated Ethereum and digital currency EOS having the highest marks ratings, CNBC reported.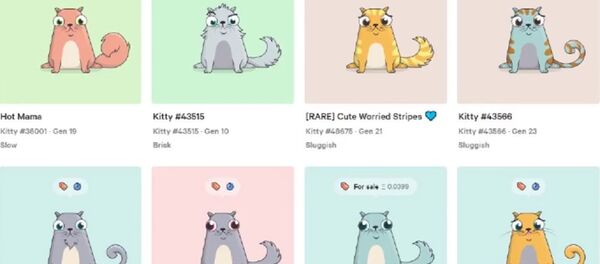 4 December 2017, 16:04 GMT
According to the CoinMarketCap website, Ripple cryptocurrency, which is being touted as a new kind of payment system for banks, gained 6.8 percent, trading at $1.38 with Bitcoin Cash going up 1.6 percent to close at $1,700.
Bitcoin currently accounts for 33 percent of the $584.71 billion cryptocurrency market with Ethereum taking up 20 percent, followed by Ripple with 9 percent.
On Monday, the Tokyo-based cryptocurrency exchange Coincheck said that it had reimbursed all its 260,000 users impacted by the theft of millions of dollars' worth of NEM coins due to a hack attack.
All trading in cryptocurrencies, except Bitcoin, were halted on Friday, hours after Coincheck became aware of the situation.
READ MORE: Japanese Cryptocurrency Exchange to Repay Owners $425 Million Stolen by Hackers