At least 5 soldiers have reportedly been killed and ten injured in an attack on the Marshal Fahim military academy in the Afghan capital of Kabul. The security forces have shut off the area.
Earlier, a series of blasts have been heard near the military academy, according to witness, Reuters reported. A resident of Kabul told the agency that the series of explosions lasting for about an hour rocked the capital. According to another witness, gunfire has also been heard in the area.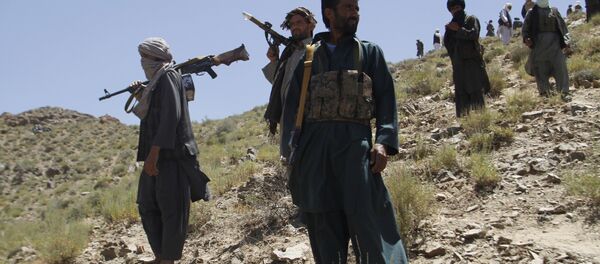 22 August 2017, 05:43 GMT
According to the Tolo News TV channel, RPGs have been used during the shootout. The attack at Marshal Fahim Military University started at around 05:00 a.m. (00:30 GMT), the broadcaster reported, citing officials and eyewitnesses. MoD spokesman reported later that three attackers were killed, one arrested and one more left fighting.
Daesh terrorist organization has reportedly claimed the responsibility for the attack.
A blast hit the diplomatic quarter of Kabul on Saturday, where the embassies and many government buildings are located. The attack was perpetrated by a terrorist, who was driving an explosives-packed ambulance. The death toll of the attack is 103 people, while the number of those wounded is 235. The Afghan authorities declared Sunday as a national day of mourning.