Millions of Americans had their hopes of seeing Oprah Winfrey take on Donald Trump in the 2020 presidential election dashed last week.
"I've always felt very secure and confident with myself in knowing what I could do and what I could not. And so it's not something that interests me. I don't have the DNA for it," Winfrey told InStyle magazine, when ruling herself out of the running, despite polls suggesting she would beat Trump.
So who is out there who could conceivably challenge Trump?
Let's start off with the serious contenders:
​Kanye West
Yes, Mr Kim Kardashian is being talked about as a possible runner in 2020.
The argument is that Trump has burst the bubble of all those political analysts who said that you could not be elected to the White House without experience as a senator, a congressman or a state governor.
Trump had never been elected to political office and in fact had flirted with the Democrats in New York several times before hoisting the Republican flag.
Kanye, a successful hip hop singer and music producer, is one of the most well-known celebrities in the United States, partly due to his wife Kim, her shapely derriere and her gaggle of reality TV show sisters.
The 40-year-old famously hugged Trump and met the president-elect for a 15-minute sitdown in December but by 2020 that will be ancient history.
© AP Photo / Charles Sykes
Kim Kardashian and Kanye West arrive at The Metropolitan Museum of Art's Costume Institute benefit gala.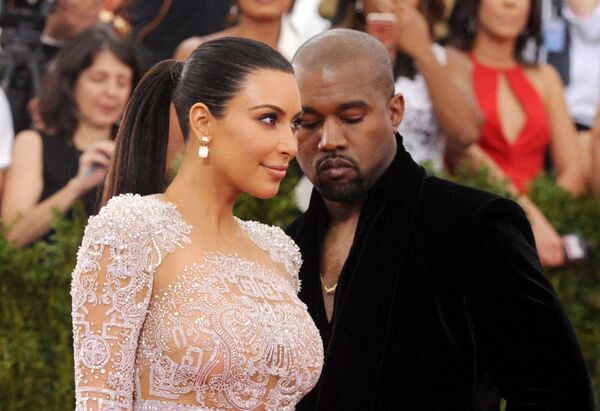 Kim Kardashian and Kanye West arrive at The Metropolitan Museum of Art's Costume Institute benefit gala.
© AP Photo / Charles Sykes
Elizabeth Warren
If for some reason Mr. or Mrs. Kardashian are unavailable in 2020 — say, perhaps they are going on a world tour or unveiling a new line of toiletries — then the Democrats could fall back on a politician.
Elizabeth Warren is currently as short as 10-1 with some UK bookmakers to become the next US President.
But who is she and what does she have that Hillary Clinton didn't?
Well, firstly let's switch the question around. What she doesn't have that Hillary did have is baggage — no awkward questions about her husband, an attack on a US consulate in Benghazi when she was secretary of state or her inappropriate use of an email server.
But the senator from Massachusetts, a former Harvard law professor, may still be a bit too much of an Ivy League, patrician, East Coast liberal to win back those states which flipped from the Democrats to the Republicans in November 2016.
The Rock (Dwayne Johnson)
So, let's go back to serious challengers.
Who would get Trump seriously quaking in his boots? Step forward President-Elect….The Rock.
In December the actor and former wrestler told chatshow host Ellen DeGeneres he was "seriously considering" running for President in 2020.
The 45-year-old California-born star of films like The Mummy Returns, Tooth Fairy and several The Fast and The Furious movies has instant name recognition and has already chosen his running partner….Tom Hanks…on an episode of Saturday Night Live in May last year.
Michelle Obama
Only marginally behind The Rock in terms of name recognition, the former First Lady would be an obvious choice for the Democratic nominee in 2020 if….
It wasn't for the fact that the chances of the former wife of a President being elected have been fatally damaged by Hillary Clinton's inability to become the first female US President despite being miles ahead in the polls during the summer and outspending her opponent by a margin of around 10 to 1 in TV advertising.
Mrs. Obama's famous "When they go low, we go high" speech at the Democratic convention in Philadelphia may have gone down well, but if she were to run for President she would be forced to fight off questions about her husband's inability to transform the US economy.
Bernie Sanders
The paucity of choice on the Democrats' side is so apparent that Bernie Sanders — who would turn 80 a few months after becoming President if he were to win in 2020 — is seriously being considered as a nominee.
Many analysts think Sanders, with his anti-establishment agenda, would have fared better than Clinton did against Trump in the 2016 election.
Conspiracy theorists suggest his campaign was undermined by Clinton loyalists within the Democratic Party.
There is no doubt that Sanders v Trump would be a presidential debate worth tuning in for, but the chances of him winning the nomination seem almost as remote as those who say that former Vice President Joe Biden should consider a tilt.
Biden is only a year younger than Sanders.
Eric Garcetti
Garcetti is currently the Mayor of Los Angeles and a 50-1 shot with several US bookmakers to be the next occupant of the White House.
If you think you've heard the name Garcetti before somewhere, you're right.
His father Gil Garcetti was the Los Angeles district attorney who tried and failed to convict actor and former American football star O.J. Simpson for the murder of his wife Nicole and her friend Ronald Goldman in 1994.
"I am thinking about this. The majority of time goes to my work as mayor of Los Angeles, but everyone should think about what our role is in these difficult times, in these dangerous times," Garcetti said recently, in fluent Spanish, on the Mexican TV channel Univision.
Garcetti would certainly appeal to Hispanic voters, who are expected to make up around 15 percent of the total by 2020.
The Rest
Kamala Harris, a California senator and former state Attorney General, has been making a lot of noise but is not seen as appealing beyond the core Democratic Party demographic, while Kirsten Gillibrand, who succeeded Hillary Clinton as a Senator for New York, has also been gaining traction.
Other names in the frame are New Jersey senator Cory Booker, a former Mayor of Newark, and Andrew Cuomo, the Governor of New York and the son of former Governor Mario Cuomo.
When it comes to non-politicians — who obviously create the biggest buzz of excitement — other names in the frame are Facebook founder Mark Zuckerberg and liberal actor Leonardo di Caprio and even Chelsea Clinton who has dabbled with journalism and is now rumored to be considering politics.