"I would like to highlight Turkey's operation in the Syrian territory, the Olive Branch as Ankara calls it. We continue to monitor the developments in northern Syria, which are a matter of grave concern," Zakharova told a briefing.
The spokeswoman called for restraint of all sides involved, noting that several hundred people had died in the course of the military operation.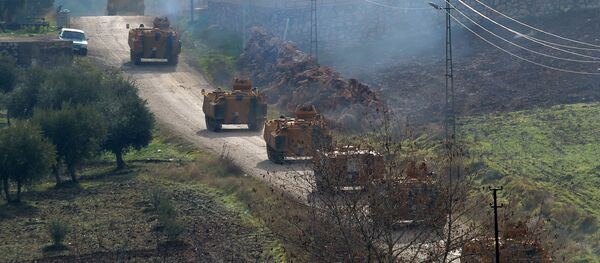 30 January 2018, 13:46 GMT
"The Turkish authorities state that the military operation in the Afrin region, which was launched on January 20 against the Kurdish people's self-defense units of the Democratic Union Party, is carried out in accordance with the right of a state for self-defense provided for in the UN Charter and is aimed at elimination of a terrorist group. According to the information received over the 10 days of hostilities, several hundred people have already died. We once again call on the parties to exercise restraint," Zakharova said.
READ MORE: Iranian TV Crew Comes Under Attack Near Afrin in Syria — Reports
The Turkish General Staff announced the start of Operation Olive Branch in Syrian Afrin on January 20. The stated aim of the operation was to destroy forces that they call "terrorists," including Syrian militant factions.
So far, Turkey has reported the killing of 712 militants, and the destruction of more than 400 militants facilities.