"The Mining Authority acted in line with legal norms and paid special attention to ensure that all environmental impact would be compensated for," the ministry said in a statement.
READ MORE: How Norway Can Help Russia Build Nord Stream 2 Gas Pipeline
According to the ministry, the Stralsund Mining Authority has made a decision to issue its permission after all the documents provided by Nord Stream 2 have been checked and all the comments and objections of all the relevant agencies and individuals have been taken into account.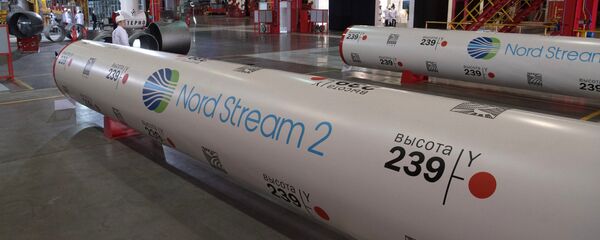 12 January 2018, 12:44 GMT
Earlier in the day, Nord Stream 2 AG, the operator of the gas pipeline project, said that it had received permission to build the sea part of Nord Stream 2 in Germany's territorial waters, adding that the approval had been issued by the Stralsund Mining Authority in accordance with the Energy Industry Act (EnWG).
Nord Stream 2 is a joint venture of Russia's Gazprom with France's Engie, Austria's OMV AG, UK-Dutch Royal Dutch Shell, and Germany's Uniper and Wintershall. It aims to deliver 55 billion cubic meters of Russian natural gas a year to the European Union across the Baltic Sea to Germany. The pipeline project has been welcomed by some countries in Europe and opposed by others, including Poland, fearing that it might increase their dependence on deliveries of Russian gas.
The planned Nord Stream 2 project