Young photojournalists from almost 40 countries have already sent over 1,000 photos to participate in the 2018 Andrei Stenin International Press Photo Contest organized by Rossiya Segodnya International Information Agency, the agency said on Wednesday.
According to Rossiya Segodnya's press service, photojournalists from Russia, India, Kenya, Bangladesh, Palestine, Serbia, Turkey, the United States, the United Kingdom, Iran, Malaysia, South Africa, China, Belarus, Moldova and Kazakhstan have submitted the majority of photos.
The number of the photographs received by the contest organizers during the first month of the submission period has doubled in comparison with the same period in 2017, the press service added.
In 2018, the contestants aged between 18 and 33 will compete in four categories, namely "Top News," "Sports," "My Planet," and "Portrait. A Hero of Our Time." The participants could submit their entries on stenincontest.com website, before February 28.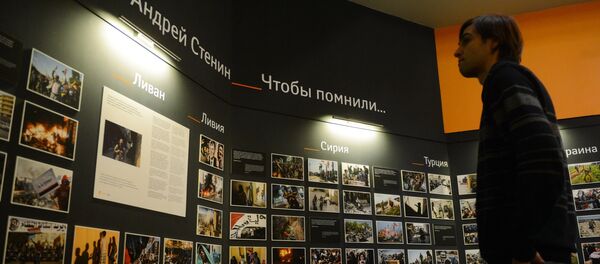 22 December 2017, 08:00 GMT
The international photo contest was first organized in December 2014 in memory of Russian photojournalist Andrei Stenin who was killed in the Donetsk region in eastern Ukraine on August 6, 2014, when the car he was in while on an editorial assignment was shot and burned on a highway. The photo contest aims to promote young photographers and attract public attention to photojournalism.
In 2017, the Andrei Stenin International Press Photo Contest was supported by major Russian and international media outlets, news agencies as well as the photo community. Partners in several categories included the Shanghai United Media Group (SUMG), the Al Mayadeen TV pan-Arabic news holding and the International Committee of the Red Cross.
The 2018 contest is supported by major Russian and international media outlets, news agencies and photo societies. Its general information sponsors are the Rossiya-Kultura TV channel, news websites Vesti.Ru, KP.ru and ZhurDom as well as the Russian Photo portal.
The list of the contest's international information partners includes Sputnik News Agency and Radio, the Askanews news agency, the Independent Media holding, the Notimex news agency, the RT broadcaster and news website, The Royal Photographic Society, the SUMG, the ANA news agency, the TeleSUR international informative multiplatform, China Daily website, the Frontline magazine, the Philippine News Agency, the Youm7 newspaper, AlYoum AlSabee web portal and newspaper and The Paper news website.
The event's industry media partners include the Academy of Photography, the GeoPhoto agency, the Photo-study.ru educational portal, the Union of Journalists of Moscow, the Union of Art Photographers of Russia, and the Young Journalists information portal as well as such festivals as Fotoistanbul, KOLGA TBILISI PHOTO and PhotoVisa.