The news comes as Qatar's standoff with Gulf Cooperation Council (GCC) nations Saudi Arabia, the United Arab Emirates and Bahrain over Qatar's alleged support of terrorism continues. The US also has military bases in the four GCC countries.

1 February 2018, 15:10 GMT
"We've been studying the needs and how to make our guests comfortable," Qatari Defense Minister Khalid Bin Mohammad al-Attiyah told Defense One on Tuesday. "I believe it's well received."
Doha will build 200 new homes and a new entertainment complex at Al-Udeid Air Base, the hub for all US Air Force missions in the Middle East. Soldiers at Al-Udeid Air Base used to live in trailers before getting upgraded, dormitory-style apartments.
The nature of the facilities at Al-Udeid has been similar to expeditionary accommodations, but that is all about to change. The US side is also planning a massive overhaul of facilities at the base. "The Air Force is currently planning and executing more than a dozen infrastructure improvements across the base, including several new warehouses, taxiway lighting improvements, new training facilities and upgrades to existing ones, dining hall upgrades, a new maintenance workshop and connecting the base sewage system to [the] Qatari system outside the base," a service spokesman told Defense One.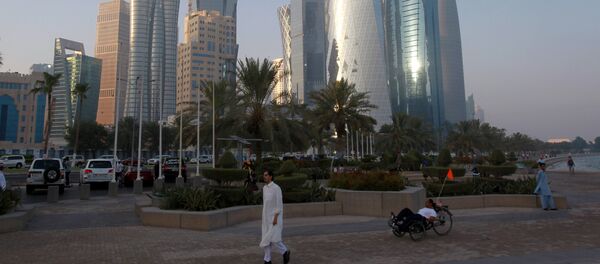 13 January 2018, 12:28 GMT
"These construction projects represent a transition from an expeditionary environment with temporary facilities to a base with an enduring infrastructure capable of sustaining long-term operations," the USAF spokesperson said.
The latest National Security Strategy and National Defense Strategy place great power competition with Russia and China higher on the priority list than terrorism, but Doha does not see the American presence leaving the Middle East nation any time soon.
"As we speak now, the commitment is a long-term commitment," al-Attiyah said. "I don't see anything on the horizon which indicates that our fellow Americans are going to leave in the near future."
While speaking at the Heritage Foundation, the Qatari official said that "colleagues in the US Department of Defense are reluctant to mention the word 'permanent,' but we are working from our side to make it permanent."
In addition to the Al-Udeid base expansion, Qatar is exploring "how we can improve our military navy ports so we can accommodate the American Navy, if needed," the official said. The US Navy's Central Command headquarters are in Bahrain, where the British Royal Navy set up a new overseas navy base for the first time in 45 years last fall.