Saudi Arabia and the United Arab Emirates are trying to mediate between the Hadi government representatives and the members of the Transitional Southern Council that have been clashing in the south of the country.
The envoys of the two states have met with the members of the warring parties and "stressed the need to abide by the ceasefire," calling on them "refocus efforts on the front lines against the Houthis", WAM news agency reported citing a UAE's official.
The Transitional Southern Council is a group in southern Yemen that has been formed with the help of the UAE, one of the key powers in the Saudi-led coalition that has been conducting airstrikes in support of President Hadi.
The council has launched an offensive in Aden after the Hadi government had failed to meet the group's demand to step down because of the corruption and ineffectiveness. The group supports the return to the pre-1990 situation when the two Yemeni states existed.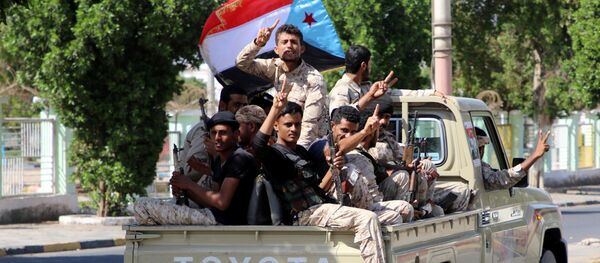 30 January 2018, 08:44 GMT
The fierce fights have been ongoing in Aden since Sunday, with at least 20 people being killed and over 120 more injured, according to the country's Ministry of Health. 
The new fights have occurred amid a broader conflict between the Hadi forces and the Houthi militants who are in control of the north of Yemen.
Houthis are Shia militants that have been a part of a larger civil war in Yemen that has been ongoing since 2015. In March of that year, they took control over the Yemeni capital of Sanaa and forces President Hadi out of his residence. The president then fled to Aden and requested the Saudi-led coalition to launch the military campaign with a goal of restoring the government.
READ MORE: Yemen's Southern Movement: What They Want and Who They Are
The brutal war has claimed the lives of over 10,000 people, according to UN estimates. It also caused a severe humanitarian crisis with a major cholera outbreak in the country.