The Chinese and Afghan officials are discussing the construction of a base in Wakhan Corridor, a remote mountainous strip that is isolated from the rest of Afghanistan, according to Afghan Defense Ministry deputy spokesman Mohammad Radmanesh.
"We are going to build it (the base) but the Chinese government has committed to help the division financially, provide equipment and train the Afghan soldiers," he said.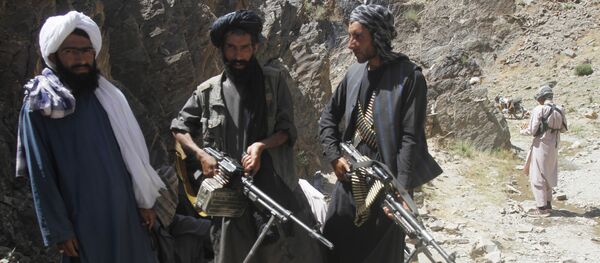 1 February 2018, 14:36 GMT
However, a Chinese embassy official in Kabul was scarce on providing details on the project, saying only that Beijing was engaged in "capacity-building" in Afghanistan.
According to Fergana News Agency that talked to Afghanistan's Defense Ministry Representative Dawlat Vazari, the preliminary agreement to build the base was reached during the visit of an Afghan delegation headed by Defense Minister Tariq Shah Bahrami to China in December 2017. During the visit, the sides have discussed the cooperation in the anti-terror fight in the bordering regions.
Chinese authorities are scrutinizing the activities of exiled Uyghur members of the East Turkestan Islamic Movement (ETIM), a Muslim group that has committed dozens of terrorist acts in China.
"The Chinese side fears that the Chinese Uighurs, who are fighting along with terrorists [in the Middle East], can cross into China through Afghanistan and become a headache for the Chinese authorities," an unnamed source said to Fergana News Agency.
China's engagement in the base construction comes amid Beijing's major push for boosting ties with its war-ravaged neighbor. China has mediated rows between Afghanistan and Pakistan and offered to make Kabul a part of the $60 billion China-Pakistan Economic Corridor it wants to build with Islamabad.