Chief Prosecutor of Iran Mohammad Jafar Montazeri called the protests by 29 women in Tehran against public morality norms "childish" and "emotionally charged" and underscored that the protesting women were most likely incited by foreigners.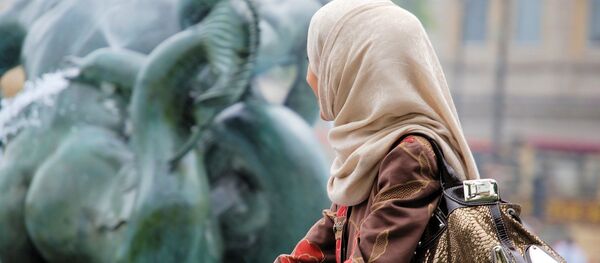 19 January 2018, 17:55 GMT
Wearing headscarves, or hijab, in public is mandatory for women in the Islamic Republic of Iran. The women who took theirs off in protest have been accused of public order offences and referred to the state prosecutor's office. According to Al-Araby, women showing their hair in public can be jailed for up to two months or fined $25.
Montazeri's statement is not without ground, as in May 2017, Masih Alinejad, a US-based journalist and activist, started a campaign dubbed "White Wednesdays," encouraging women to wear white headscarves or take them off in public entirely in protest against civic norms.
According to the Guardian, Iranian officials accused Alinejad, who works for the US government-funded media organ Voice of America, of receiving money from foreign governments to fund her campaign.
The protests, during which women climbed on top of telecom boxes in the middle of the street, waving their doffed scarves tied to the ends of sticks, mirror a similar event that happened in December 2017, when a 31-year-old woman, identified as Vida Movahed, reportedly inspired by Alinejad's White Wednesdays' campaign, took off her hijab and tied it to a stick in the middle of the street in Tehran.
​According to the Times of Israel, Tehran police detained Movahed and she reportedly refrained from further protests after spending a month in jail.
The United States condemned the reported arrests  in a press release Friday.
"We condemn the reported arrests of at least 29 individuals for exercising their human rights and fundamental freedoms by standing up against the compulsory hijab," State Department spokesperson Heather Nauert said.