US forces have arrived in Israel to take part in Juniper Cobra, a biennial major military exercise. In the last Juniper Cobra in 2016, more than 3,000 US troops took part, according to a report by Jerusalem Online.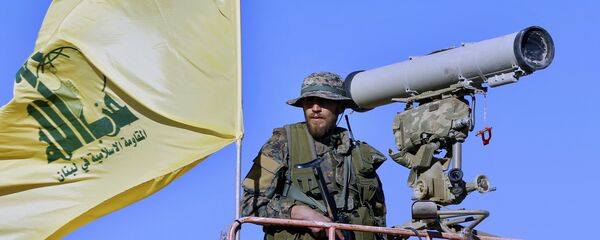 1 February 2018, 09:19 GMT
The exercise will imitate a massive simultaneous missile attack on Israel from southern and northern fronts, according to Channel 10 News Agency.
This year, the exercise comes amid escalating tensions with Lebanon-based Hezbollah, which threatened to fire missiles at Israel if it doesn't stop building a wall on its Lebanese border.
In the meantime, Lebanon's energy minister, Cesar Abi Khalil, claimed that Lebanon will explore oil and gas near its maritime border with Israel. This territory has been claimed by Tel Aviv, an action that sparked massive condemnation across the Arab world, according to Washington Post.
Addressing the Institute for National Security Studies at Tel Aviv University on Wednesday, Israeli Defense Minister Avigdor Lieberman said that Lebanon's latest plans to drill in a disputed offshore oil and gas field known as Block 9 were "very, very challenging and provocative," according to Reuters.
In the same speech, the far-right minister threatened to wage a full-scale war against Lebanon if Hezbollah launched any attacks against Israel, Reuters reported.
"Unlike the 2006 Lebanon War, there cannot be images of Beirut's residents at the beach while [people] in Tel Aviv sit in shelters. If [people] in Israel sit in shelters during the next war, all of Beirut will be in shelters," Lieberman said.
On January 28, Israeli Defense Forces spokesman Ronen Manelis also warned in an op-ed on Lebanese opposition website Ahewar that a war with Israel could break out Beirut allowed Iran to develop precision missiles in the country.
"Lebanon has become — both by its own actions and omissions and by a blind eye from many members of the international community — one large missile factory," Manelis wrote, according to the Jerusalem Post.
"It's no longer a transfer of arms, funds or consultation. Iran has de-facto opened a new branch, the 'Lebanon branch.' Iran is here," he added.
According to Israeli Defense Force assessments, Hezbollah is in possession of an arsenal of at least 100,000 short-range rockets and several thousand more missiles that can reach central Israel. In addition to a massive arsenal of rockets and missiles, Hezbollah is able to mobilize close to 30,000 fighters and has flouted its tunnel system, complete with ventilation, electricity and rocket launchers.