According to representatives of the Chernigov settlement, Roman Filippov, the murdered pilot, served in Primorsky Krai, which is located in the Far East region, and had a family there. The issue of a memorial service will probably be dealt with on February 6. For now, the Russian Reconciliation Center for Syria is working on returning the pilot's body home along with Turkey, which is in charge of the Idlib de-escalation zone.
"The news was especially devastating for residents of our Krai. Roman Filippov was a military officer, whose service and life were tightly linked to Vladivostok and Primorye. He was one of the aces of Russian attack aviation, an honorable and fearless man. He carried out his military duty faithfully, both in Russia and beyond," said Andrey Tarasenko, acting governor of Primorsky Krai.
READ MORE: Alleged Video of Fight Between Russian Su-25 Pilot, Terrorists Surfaces on Web
The Russian Defense Ministry reported that Russia's Su-25 aircraft was downed by a MANPAD portable surface-to-air missile within an area controlled by Jabhat Fatah al-Sham (formerly Jabhat al-Nusra) in Idlib. The pilot managed to eject from the jet, but was killed during a fight on the ground with the terrorists.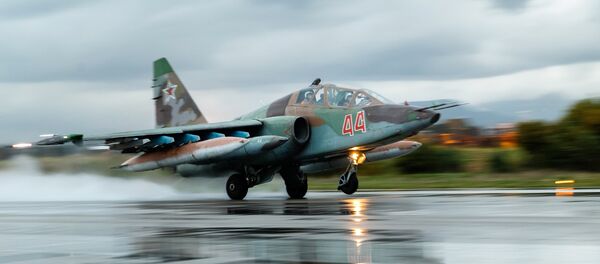 5 February 2018, 05:16 GMT
The Tahrir al-Sham terrorist organization, which was linked to an offshoot of al-Qaeda, reportedly claimed responsibility for the deadly attack.
The Defense Ministry confirmed that more than 30 militants of Jabhat Fatah al-Sham had been killed as a result of the Russian forces' high precision strike in the area from where the MANPAD projectile had been launched.