Two major Iran-backed Iraqi Shiite groups have reportedly demanded that the United States leave Iraq, with one of them, the Badr Organization, saying that any remaining American troops would trigger instability.
"The two governments should coordinate to ensure a full withdrawal. US presence will be cause for internal polarization and a magnet for terrorists," Badr spokesman Kareem Nuri stated.
The second group, Kataib Hezbollah, has previously threatened to attack US forces several times, denouncing their presence in Iraq as an occupation.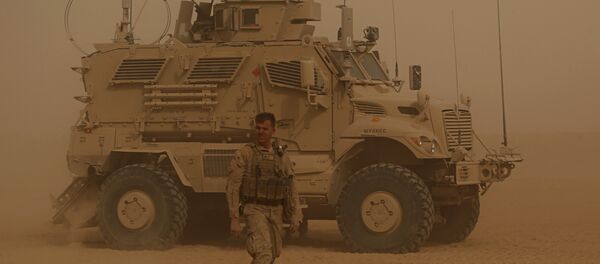 5 February 2018, 21:06 GMT
"We are serious about getting the Americans out, using the force of arms because the Americans don't understand any other language," its spokesman Jaafar al-Husseini said, reiterating the group's threats, broadcast on Beirut-based al-Mayadeen TV on February 5.
Earlier this week, the US-led coalition issued a press release, which outlined its shift from combat operations in Iraq to sustaining and securing the advances achieved in their fight against Daesh.
"As a result of the successful operations by the Coalition and its partners, Daesh [Islamic State] has lost approximately 98 percent of the territory it once held in Iraq and Syria," the release said. "Enabled by accelerated successes following the liberation of Mosul, the Coalition will shift its focus in Iraq from enabling combat operations to sustaining military gains against Daesh."
An Iraqi official close to the country's Prime Minister Haider al-Abadi said earlier that the initial agreement implied the withdrawal of some 60 percent of the current US contingent, while 4,000 troops would stay to train the Iraqi military.
READ MORE: Iraq Confirms US Starts Drawdown After Declaring Victory Over Daesh
The international anti-terrorist coalition, led by the United States, assisted Iraqi forces in recapturing territory seized by Daesh jihadists, including the liberation operation of the country's second-largest city Mosul.
According to the report, issued by the Pentagon last year, some 8,892 US troops had been deployed in Iraq.