Naftali Bennett said the bill earlier passed by the Polish Senate amounts to a denial of the Holocaust.
"The blood of Polish Jews cries from the ground, and no law will silence it," Bennett said in a statement.
"The government of Poland cancelled my visit, because I mentioned the crimes of its people. I am honored," he added.
The Polish bill which, to become law, needs to be signed by President Andrzej Duda, stipulates fines or jail terms of up to 3 years for anyone who suggests "publicly and against the facts" that Poles or Poland as a state were complicit in Nazi Germany's crimes.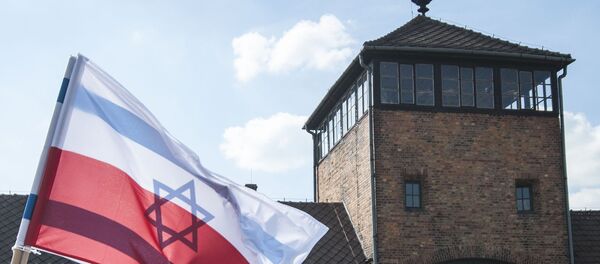 1 February 2018, 12:22 GMT
Polish authorities describe the measure as an attempt to protect the country's reputation and show that Poles themselves were victims of Nazi aggression.
Israeli officials have slammed the bill, accusing Warsaw of attempting to deny the Holocaust and "whitewash" Poles.
The Foreign Ministry said in a statement that it perceives "with utmost gravity any attempt to challenge historical truth."
Simultaneously, Israel's Minister of Intelligence and Transportation Israel Katz has urged Prime Minister Benjamin Netanyahu to recall the envoy to Tel Aviv for consultations amid controversy over the draft law.
The bill has been criticized by the United States, a number of international organizations and minority groups inside Poland.
During their occupation of Poland in the the Second World War, German Nazis killed more than 3 million of the country's 3.2 million Jews, along with many other occupied European states at Auschwitz, Treblinka, Belzec, Sobibor and other death camps built by Germans in Poland.

1 February 2018, 02:42 GMT
On Monday, Polish Foreign Minister Jacek Czaputowicz said that the controversial bill is meant to "stop the smear campaign against Poland for its alleged involvement in the crime of the Holocaust."
Polish officials have repeatedly requested corrections when media refer to Nazi death camps, such as Auschwitz, as Polish insisting that they were built and operated entirely by Germans.
Over six million Jews died in the Holocaust during WWII. Several major concentration camps, including Auschwitz and Treblinka, were set up in Poland after the country was invaded by Germany in 1939.
READ MORE: Israel Mistook Warsaw's 'Holocaust Bill' — Polish Foreign Minister