"Since the beginning of the year, the increase in violence in Idlib has resulted in another upsurge of internal displacement with other a quarter of a million civilians reportedly fleeing the fighting… Most alarmingly, the Commission has received multiple reports, now under investigation, that bombs allegedly containing weaponized chlorine have been used in the town of Saraqeb in Idlib and Douma in eastern Ghouta," the statement said.
The statement comes a day after US State Department Spokesperson Heather Nauert said that the US was alarmed over reports that the Syrian government used chemical weapons near Saraqib.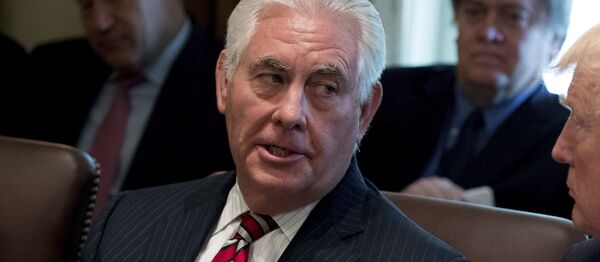 27 January 2018, 09:35 GMT
The same day, Russian Envoy to the United Nations Vassily Nebenzia told the UN Security Council that Organization for the Prohibition of Chemical Weapons (OPCW) that the chemical weapons capacity of the Syrian military had been completely destroyed.
The official further noted that the Syrian government consistently informed the international community, including the United Nations Security Council about the detection in areas liberated from terrorists, of dangerous chemical substances.
READ MORE: Pentagon Chief: US Has No Evidence Damascus Used Sarin Gas in Chemical Attacks
Syrian authorities have been repeatedly accused of using chemical weapons against civilians in the conflict that began in 2011. Damascus has denied the allegations insisting that its military chemical capacity has been destroyed.
In most recent accusations that were made January 26, the Syrian opposition White Helmets rescue group stated that three civilians were killed and many others injured in a suspected chlorine gas attack on Eastern Ghouta.