"Rosaviatsia head Alexander Neradko and DGCA Deputy Director General Can Erel have signed a working arrangement on airworthiness [certification] on the sidelines of the Fifth National Aviation Infrastructure Show [in Moscow]… The arrangement provides an opportunity to deliver Ka-32 helicopters to Turkish purchasers as soon as this spring," Rosaviatsia said in a press release.
According to the press release, the agreement stipulates mutual recognition of airworthiness certification, issued by Rosaviatsia and the DGCA, thereby providing favourable conditions for Russian aircraft exports to Turkey. Under the agreement, airworthiness certificates issued for exported aircraft by Rosaviatsia will be given the same validity as those issued by Turkish aviation authorities.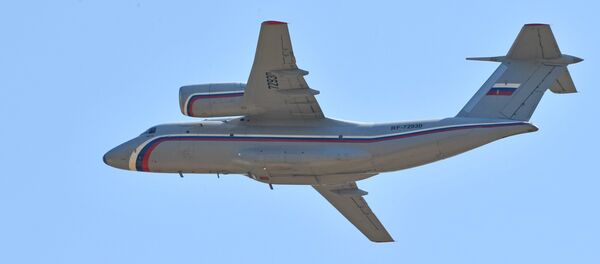 7 September 2017, 02:39 GMT
On January 26, the Russian Helicopters holding company announced its plans to deliver three firefighting Ka-32A11BC helicopters to Turkey. One of them has already been assembled, expecting its transfer to the Turkish Kaan Air company, while the other two will be delivered to Turkey until the end of the year.
The Ka-32A11BC medium-sized multirole helicopter is designed for special search and rescue operations, patrolling, firefighting missions and law enforcement operations. The helicopters are used in Austria, Azerbaijan, Brazil, Canada, China, Indonesia, Japan, Kazakhstan, Portugal, Russia, South Korea, Spain and Switzerland.
Earlier, the Russian Helicopters company announced that one of its production arms would manufacture six Ka-32A11BC helicopters in 2017 for a number of Chinese companies.