In a press release published on his official blog, the politician urged Paris to "intervene and offer political asylum to Julian Assange" amid the ongoing injustice surrounding his detention by the British justice system.
According to Melenchon, "the protection of whistleblowers should mobilize us," and Assange's continued confinement to the Ecuadorian Embassy in London is an attack on his human rights. "The conditions of his detention are unacceptable; he is not even allowed access to the medical care that his lawyers have called for," the lawmaker noted.
The leader of France's leftist party, Jean-Luc Mélenchon, says France should extend political asylum to Julian Assange to protect him from the threats of Trump's CIA Director to prosecute him for publishing docs, which he says the UK is working to enable https://t.co/xto4nf6NOS

— Glenn Greenwald (@ggreenwald) 9 февраля 2018 г.
Calling the British authorities' actions shameful, Melenchon suggested that London seems "zealously committed" to ensuring American interference in this case.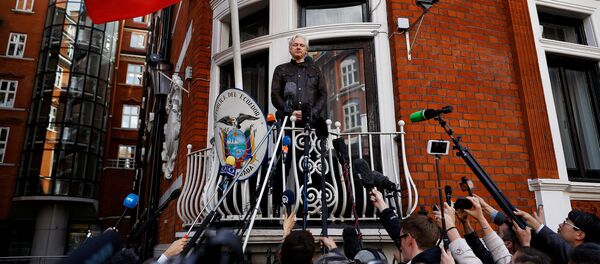 7 February 2018, 03:46 GMT
On Tuesday, the Westminster Magistrates' Court
upheld
its arrest warrant against Assange, arguing that it had no reason to cancel the arrest order because Assange had breached his bail conditions by refusing to appear in court in 2012. A new hearing on the matter has been scheduled for February 13.
Assange's legal problems began in 2010, when officials in Sweden launched an investigation against him over rape allegations. In May 2017, following a thorough investigation, Swedish prosecutors cleared Assange, but British authorities have said they would still have to arrest the whistleblower if he ever stepped out of the embassy. Assange is concerned that British authorities may extradite him to the United States over WikiLeaks' activities, which include the release of classified and embarrassing documents.