New Delhi (Sputnik): The Indian government has started monitoring the flow of water in the River Sutlej and its tributaries after locals in the state of Himachal Pradesh raised an alarm over what they suspected to be a diversion of the river water in Tibet by China. 
"Government continues to carefully monitor the water flow in trans-border rivers, including Sutlej River, for early detection of any abnormality so that corrective and preventive measures are taken to safeguard livelihood of the people in these regions," General VK Singh, India's Minister of State for External Affairs said in the Parliament on Thursday.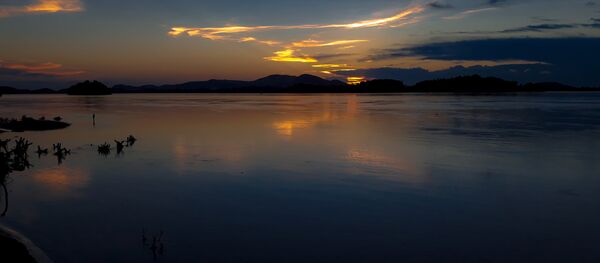 12 December 2017, 14:59 GMT
Under existing bilateral Memorandums of Understanding, China provides to India hydrological information of Brahmaputra River (Yarlong Zangbo) and Sutlej River (Langqen Zangbo) during the flood seasons.
"The Chinese side did not provide the hydrological information with respect to either of the two rivers in 2017. This issue has been taken up with the Chinese side, which has conveyed that the non-provision of data was due to technical reasons," General VK Singh added.
The Sutlej originates in Tibet and it enters India through the border post of Shipki La and flows into Himachal Pradesh, also eventually emptying itself into the Arabian Sea off Karachi city (Pakistan). A section of the Indian media had earlier reported, quoting an intelligence input, that China was constructing a concrete structure on the River in the Tibetan Autonomous Region possibly to divert water. Sutlej and its 27 tributaries are solely dependent on water flow from the Chinese side and any untoward action by China would have the potential to dry up these tributaries, many of which sustain India's agrarian and hydro-power projects.
READ MORE: Changing River Water Color Deepens India's Fear of Possible Diversion by China
Earlier, in 2017, the Indian states of Arunachal Pradesh and Assam had also expressed similar suspicion over the depleting water quality of the Brahmaputra — another river that flows through China. China had clarified that the water was polluted as massive lakes were formed by landslides on the river in Tibet following an earthquake.
The Indian government has been in touch with its Chinese counterpart on amicably thrashing out the concerns.
"Various issues relating to trans-border Rivers are discussed with China under the ambit of an institutionalized Expert Level Mechanism which was established in 2006, as well as through diplomatic channels. We intend to remain engaged with China on the issue of trans-border Rivers to safeguard our interests," Minister VK Singh assured the nation through the Parliament on Thursday.