The Egyptian forces destroyed the terrorists' warehouses containing weapons, munitions, and explosives, the statement read.
The country's military personnel supported by the Interior Ministry also held raids in settlements on the Sinai Peninsula. The forces established road checkpoints for identifying criminals and preventing them from leaving the peninsula, the document added.
READ MORE: Israel Covertly Bombed Daesh on Sinai for Years, Op Allegedly Greenlit by Egypt
The army is patrolling border territories and Mediterranean coastal area, the statement continued.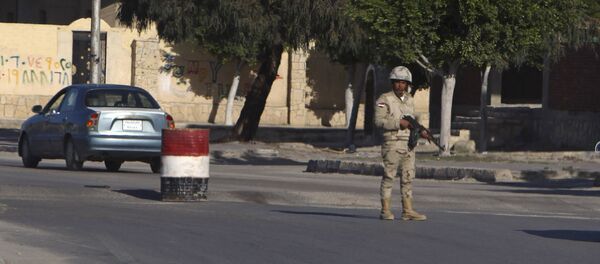 9 January 2018, 15:34 GMT
The Egyptian army called on the country's residents to cooperate with the law enforcement and report about terror suspects threatening stability and security of the country.
On Friday, Cairo started a major anti-terror operation in the area.
Cairo has been holding anti-terror activities on the Sinai Peninsula, where militants have repeatedly staged deadly attacks, for years. In 2014, the state of emergency has been introduced on the peninsula after militants attacked Egyptian security officers in the area.
READ MORE: Egyptian Air Forces Hit Militant Targets in Sinai Peninsula
In late December, Egypt's President Abdel Fatah Sisi ordered the country's armed forces to end militant activities on the peninsula within three months.