Israel has the right for self-defense and will defend itself against any attack or attempt to violate its airspace, Netanyahu said during his talk with Putin, according to prime minister's press service. 
"We agreed coordination between our armies would continue," Netanyahu said in a televised statement following the conversation.
Putin told Netanyahu that Russia would seek to avoid steps that could result in a new round of dangerous confrontations in the Middle East, according to the Kremlin's press service.
The Israeli prime minister pointed out that Tel Aviv seeks peace but won't allow Tehran forces to entrench in Syria.
"Israel wants peace but we will continue to defend ourselves with determination against any attack on us and against any attempt by Iran to entrench itself militarily in Syria or anywhere else," he said.
The news comes after the Times of Israel reported that Tel Aviv had turned to Moscow for help in easing tensions amid an attack on Syria by Israeli Defense Forces (IDF).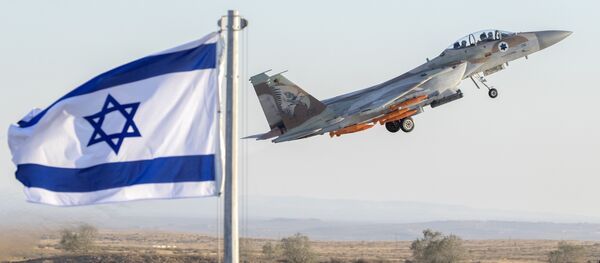 10 February 2018, 19:06 GMT
On Saturday morning, Israel claimed that one of its helicopters downed an Iranian drone launched from Syrian territory, and that the Israeli Air Force (IAF) had hit several military targets in Syria, prompting retaliatory fire from Syrian air defense systems.
According to an IDF statement, during the attack, "multiple anti-aircraft missiles were fired at IAF," and one Israeli F-16 fighter jet crashed in northern Israel. Two pilots ejected and one sustained severe injuries and was transferred to hospital.
Israeli forces then launched a second attack, hitting 12 targets in Syria, including Syrian air defense batteries and Iranian military facilities, the IDF claimed.
The Syrian Defense Ministry has reportedly stated that it responded to the attacks successfully, downing more than one Israeli jet.
Iran Foreign Ministry spokesman Bahram Qasemi dismissed and ridiculed a claim by Tel Aviv that one of its drones infiltrated Israel.
"Iran only provides military advice to Syria," Qasemi was quoted as saying by State TV.
The Russian Foreign Ministry expressed concern with the new escalation, calling for respect to Syrian sovereignty and warning against the creation of new threats in a country in which Russian troops are deployed.