On Wednesday, MEPs put Tunisia to the European Commission's blacklist of countries engaged in laundering ill-gotten funds and financing terrorism after a vote to take the country off the list failed to garner the support of 375 EU deputies.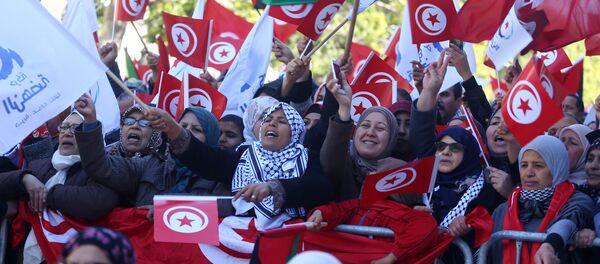 14 January 2018, 16:40 GMT
The MEPs who had tabled the motion described the North African country as a "burgeoning democracy in need of support" and that the listing fails to recognize the recent steps it has taken to strengthen its financial system against criminal activity.
Marie-Christine Vergiat, a member of the European Parliament representing the Confederal Group of the European United Left — Nordic Green Left, expressed "surprise and incomprehension" at the MEPs' decision to blacklist Tunisia.
"In December only 11 countries were blacklisted, five of them from the Middle East and Africa, including Afghanistan, Syria, Yemen and Iraq —  all war-torn countries, plus Iran, neither Libya nor any Persian Gulf country was mentioned. How come they blacklisted Tunisia?" she wondered.
It is already the second time in as many months that Tunisia has been blacklisted.
On December 5, 2017, EU finance ministers put the country on the black list of offshore havens, and on January 23, 2018, they resumed the discussion of the decision, which Tunisian authorities describe as "unfair."
The decision to blacklist Tunisia again came just a day after the country's Foreign Minister Khemaies Jhinaoui voiced hope for "serious efforts " by the
EU in support of the democratization process in his country, where the government of President Ben Ali was ousted as a result of a mass uprising in January 2011.
READ MORE: Protests in Tunisia: Popular Movement or Foreign Meddling?
The EU's Foreign Affairs Commissioner Federica Mogherini assured the Tunisians of the EU's unwavering support.
In an interview with Sputnik, a Tunisian diplomat described this as "hypocrisy."
"While undermining the importance of the ongoing [democratization] process in Tunisia, the Europeans openly sabotage it by taking decisions which undermine our country's image and its relations with the EU, which is our main strategic partner," the diplomat said.
He described this as pressure being brought against Tunisia to join the Deep and Comprehensive Free Trade Agreement (DCFTA), which envisages closer oversight in international trade, particularly involving private companies.
"They are toughening procedures Tunisians could easily make do without, especially now," the diplomat added.
Meanwhile, the EC's legal affairs commissioner Vera Jourova has struck a positive note by saying that the decision to blacklist Tunisia could be reconsidered before the end of this year, depending on "progress" achieved in this area.
Just a few hours after the vote in the European Parliament, the chairman of Tunisia's Central Bank was fired.